Mark Your Calendars, Suzy Is Making Her Small Screen Comeback With 'Anna' This June!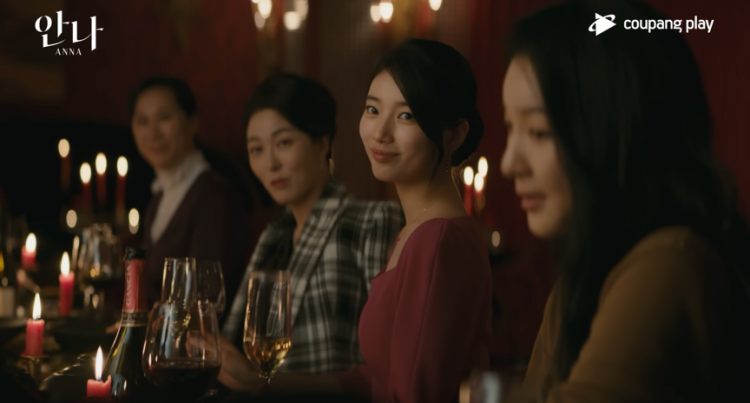 "Anna" which is expected to showcase the acting of idol-turned-actress Suzy will be hitting the small screens this June.
Coupang Play series "Anna" confirmed its first release on June 24 at 8 PM, and released a teaser poster that captures Suzy's multi-layered charm.
Produced by Content Map, "Anna" is helmed by director Lee Joo Young and is the story of a woman who starts living a completely different life by telling a trivial lie.
READ: Real Inspiration, Collab With Monika, & More, Bae Suzy Talks About Her 'Satellite' Musical Comeback!
In the teaser poster, the elegant and alluring figure of Suzy staring at someone with an unknown expression catches the eyes of the viewers at once. Suzy's subtly changing colorful expressions are projected like an afterimage, making people look forward to Suzy's acting transformation, which will vividly portray the three-dimensional character Anna.
A strong copy of "a name I want to have, a life I want to steal" is highlighted in the poster to amplify the curiosity about the interesting subject matter of a woman living a life full of lies and an immersive story that will deliver tension and sympathy at the same time.
Suzy, a global star with a strong fanbase, has established herself as a box-office actress across screens with projects such as "Introduction to Architecture," "Mount Baekdu," "While You Were Sleeping," and "Vagabond."
READ: IU, BTS, BLACKPINK, Bae Suzy & Other Stars Joins Forbes Korea's 'Most Powerful Celebrities' List
Actor Jung Eun Chae, Kim Jun Han, and Park Ye Young, who have strong acting skills and personalities, will join Suzy in "Anna" to create a hot acting synergy.
Director Lee Joo Young, who was recognized for his directing skills and workmanship with the movie "A Single Rider," is in charge of the script and directing.
READ: 'Goddess' Lineup: 4 Gorgeous K-Pop Idols From The Rare 'Bae' Family
The Coupang Play series "Anna," which foreshadows a new face of Suzy, which has never been seen before through the teaser poster, can be checked through Coupang Play every Friday at 8 PM, starting on June 24
Check out the teaser for Suzy's "Anna" here
© 2022 Korea Portal, All rights reserved. Do not reproduce without permission.