iKON Reveals How They Feel About B.I's 2019 Departure For The First Time & More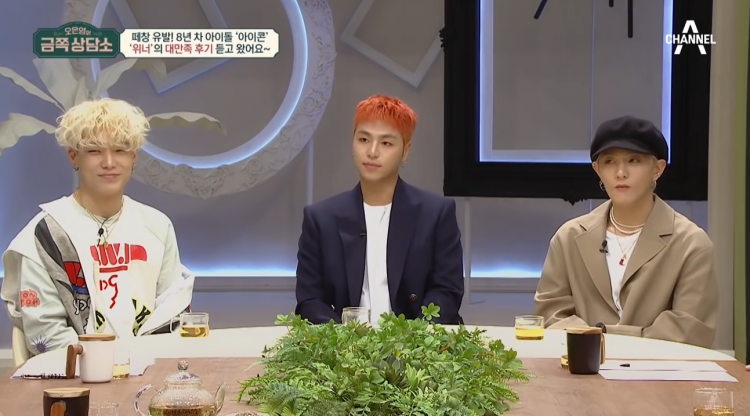 Just recently, iKON's Bobby, DK, and Junhoe were featured on "Dr. Oh's Golden Clinic." There, the K-Pop artists spilled tea on their experiences since their debut.
READ: iKON Shows 'A Glimpse Of The Past, Present, & Future' To Fans With 'FLASHBACK' & 'BUT YOU' Comeback
Notably, the iKON members talked about their pre-debut and survival show days, their current careers, the unfortunate departure of B.I, and Bobby's marriage and first child. Overall, the members revealed how they managed to flourish through adversity.
For the first time ever, the iKON members talked about how they felt regarding B.I's departure. Beyond this, iKONICs were also happy due to the uncensored photo of all seven iKON members on national TV.
It's been so long to see unblurred OT7 iKON photo in any Korean show

YOU ARE LOVED iKON#iKON_DrOhGoldenClinic@YG_iKONIC #iKON #DONGHYUK #JUNHOE #BOBBY pic.twitter.com/t8pFiGvRtE — Kim 동동 producer nim (@Kony_Kim) June 3, 2022
iKON's Donghyuk started the topic when the members were asked what the most challenging moment was when promoting as iKON. Affectionately, DK still addressed B.I. as his older brother and shared that when B.I left, none of the members of iKON had the will to do anything.
Furthermore, Junhoe then revealed how all the members of iKON felt empty. This was because the seven members had been together since before making their debut. iKON endured so much just to debut and the only way they triumphed was because they were together.
[1/2]
Junhoe: "I was like, he's leaving the group?! It was sad and tough. I couldn't grasp the situation. I think that was how I felt, because we'd been together since trainee days and we'd always been a team..." -cont — Zombin (@mijingy0o) June 3, 2022
Adding to this, Bobby explained that when B.I left, not only did he lose his best friend, but the pillar of iKON also disappeared. Thus, instead of thinking about iKON's future, the members of the boy group only thought about how B.I was gone. But, like all things, iKON, and B.I had to do their best to keep moving forward.
cont [2/2]

Bobby: "The absence of someone whom I'd been living together with... it felt bitter... because the friend whom I was with until yesterday, the friend whom I've been with for many years is suddenly gone." — Zombin (@mijingy0o) June 3, 2022
READ: After More Than A Year Of Inactivity, YG Entertainment's iKON To Finally Make A Comeback
Both iKON and B.I have faced adversity after parting ways with one another. But the two K-Pop artists were able to power through and find their footing. Though it may not be likely that fans will get to see iKON complete, iKONICs will always remember them as a 7-member group.
© 2023 Korea Portal, All rights reserved. Do not reproduce without permission.
Tags:
kwave
,
kwave news
,
kwave updates
,
Kpop
,
kpop news
,
Kpop updates
,
Dr. Oh's Golden Clinic
,
Dr. Oh's Golden Clinic news
,
Dr. Oh's Golden Clinic updates
,
iKON Dr. Oh's Golden Clinic
,
Dr. Oh's Golden Clinic iKON
,
YG
,
YG artists
,
YG Entertainment
,
YG Entertainment artists
,
YG Entertainment news
,
YG Entertainment updates
,
yg entertainment ikon
,
YG Entertainment iKON Bobby
,
YG Entertainment iKON DK
,
YG Entertainment iKON Junhoe
,
YG Entertainment DK
,
YG Entertainment Bobby
,
YG Entertainment Junhoe
,
iKon
,
iKON news
,
iKON Updates
,
ikon bobby
,
iKON Bobby news
,
iKON Bobby updates
,
Bobby
,
Bobby updates
,
Bobby news
,
iKON DK
,
iKON DK news
,
iKON DK updates
,
DK
,
DK news
,
DK updates
,
iKON Junhoe
,
iKON Junhoe news
,
iKON Junhoe updates
,
Junhoe
,
Junhoe news
,
Junhoe updates