Acer's New Swift 3 Model Imbues A Mainstream Laptop With OLED Technology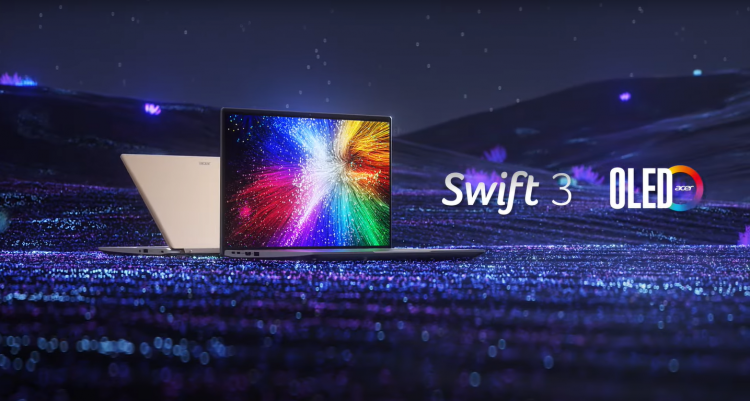 Devices with an OLED display have the power to outperform even the best LCD options. Unfortunately, this also means that they don't come cheap, especially so for OLED laptops. With Acer's latest announcement, however, the dream of an affordable and accessible OLED laptop might be closer to reality than we think.
Acer announced that its Acer Swift 3, one of the best student laptops on the market, is getting an OLED screen, and not just the cheaper FHD OLEDs sometimes found on ultraportables; it's going to have 2.8K resolution and cover 100 percent of the DCI-P3 color gamut, Acer estimated.
Better 14-Incher In the Market
With a starting price of $899.99, it's true that the Swift 3 won't be the cheapest OLED laptop on the market (its a higher starting price than the Swift 3 has had in the past), but it's likely a contender to be one of the most affordable OLED 14-inchers available this year.
READ: Vivo's New X80Pro Has A Larger Fingerprint Sensor For Intuitive Unlocking And Added Security
Acer Swift 3's base model will be a few hundred dollars cheaper than the more striking OLED notebooks currently in circulation and will present a welcome option for shoppers in the sub-$1,000 range who don't want to compromise the bliss of on-screen quality.
The Swift 3 OLED contains 12th-Gen Intel Core H-series processors with up to 16GB of LPDDR5 memory. It weighs just 3.09 pounds, and Acer claimed it offers 10 hours of battery life. The device is expected to be available in July in the US / EMEA and in China in May.
Acer Spin
Alternatively, Acer's convertible Spin 3 and Spin 5 are also outfitted with 12th-Gen Intel processors. The 14-inch Spin 5 has a 2560 x 1600 panel and up to 16GB of memory LPDDR5 and supports Acer's Active Stylus. Acer mentions new cooling upgrades will increase performance "by up to 75 percent" over the 11th-Gen model.
READ: Acer's Latest Chromebook Spin 514 Has Enhanced AMD Ryzen 5000 Processors
The similarly sized 14-inch Spin 3 has an FHD screen and also supports the Active Stylus. Spin 5 will hit shelves in July with a starting price of $1,349.99 while Spin 3 hits shelves slightly earlier in August in the US and finally in June in the EMEA with a starting price of $849.99.
© 2022 Korea Portal, All rights reserved. Do not reproduce without permission.