A Bright Green Future: GOT7 Members Talk About Disbandment, Military Service, & More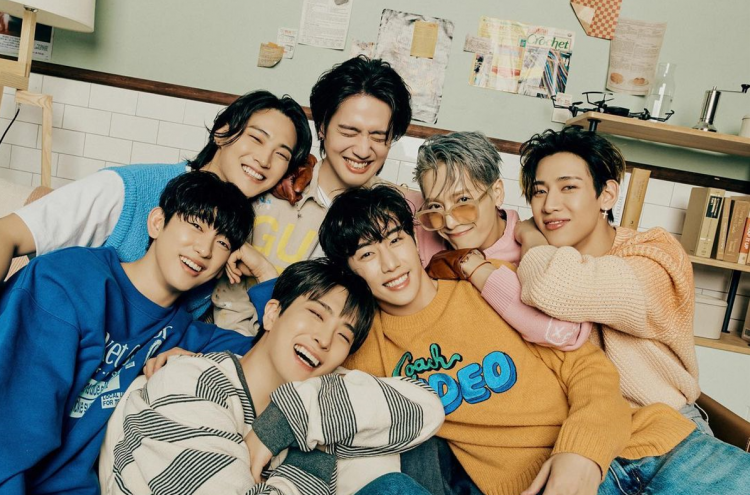 GOT7 has been facing disbanding rumors time and time again since leaving JYP Entertainment. Though time and time again, the members of GOT7 have refuted the claims. Notably, GOT7 is gearing up to make a comeback with a self-titled EP, proving how solid they are.
READ: Amidst Doubts, Fears, & Anxiety, Why Jay B Never Wanted To Be GOT7's Leader
To further keep Ahgases at ease, the members of GOT7 have recently talked about the disbandment rumors and more as they were featured in interviews with W Korea's June issue.
Jay B has been very hands-on to make sure the members of GOT7 could continue promoting seamlessly. The GOT7 leader explained why he had to do what he had to do to keep GOT7 whole.
"I gained a lot through GOT7. I felt that if we just separated and continued with our individual activities, we would have wasted the 7 years that we've spent under this name. I kept thinking to myself, 'I can't let go of this rope. I shouldn't let go.'," GOT7's Jay B revealed.
Jay B also talked about working on solo projects. For the GOT7's leader, he feels it is important to continue making a comeback as GOT7 although the members have solo careers.
Jinyoung then went on to talk about how he feels GOT7 can last forever.
"Every team has a different driving force that keeps it going for a long time. I think for GOT7, it's [our mentality of] 'the next thing that (they) want to do.' I've felt it while watching 2PM sunbaenims since I was young. 'How can they be so close to each other and be together for such a long time? They are very 'solid.' I think it was possible because Hyungs 'care.'," GOT7's Jinyoung shared.
Jinyoung also realized that trials are normal. The GOT7 member explained that it will never be the end.
GOT7's resident spoiler king went on to call out haters, denounce disbandment rumors, and note that he always proudly declares himself as a member of GOT7.
"I have nothing to hide. That's why to those people who said, 'GOT7 said they didn't disband, realistically can they gather again as seven?' I want to tell them, 'Don't carelessly judge us as you please and pretend like you are smart. Do you know that? When we go anywhere, when we greet people, we always say GOT7 before saying our names. I am GOT7 BamBam, like this.'," GOT7's BamBam noted.
BamBam added that though the foreign GOT7 members could leave Korea for a while, they will still return to GOT7 without a problem.
READ: Eating 'Just Right': How To Eat Like The Members Of GOT7
Similarly, Mark Tuan revealed that he hopes to prove it with this current comeback.
"If we just say, 'GOT7 is not disbanded,' people may not know it well. So we want to show everyone with this comeback," GOT7's Mark Tuan remarked.
Furthermore, Mark Tuan also talked about the mandatory military enlistment for the Korean GOT7 members.
Youngjae went on to add that even though GOT7 will not have a comeback in a long time, the K-Pop boy group will not disband.
GOT7's Youngjae explained, "It may take a while for the next GOT7 album to come out after this one, but there'll be no such thing as disbandment. We already decided to do it, so we have to go until the end, right?"
The members of GOT7 are really unbothered regarding the rumors of their disbandment.
READ: TXT Joins BTS, EXO, & GOT7 As The Current Kings Of Twitter, See Full Rankings
© 2023 Korea Portal, All rights reserved. Do not reproduce without permission.
Tags:
W Korea
,
W Korea news
,
W Korea updates
,
W Korea GOT7
,
GOT7 W Korea
,
kwave
,
kwave news
,
kwave updates
,
Kpop
,
kpop news
,
Kpop updates
,
GOT7
,
GOT7 News
,
GOT7 UPdates
,
got7 jay b
,
GOT7 Jay B news
,
GOT7 Jay B updates
,
Jay B
,
Jay B news
,
jay b updates
,
GOT7 Jinyoung
,
GOT7 Jinyoung news
,
GOT7 Jinyoung updates
,
Jinyoung
,
Jinyoung news
,
Jinyoung updates
,
got7 bambam
,
GOT7 BamBam news
,
GOT7 BamBam updates
,
bambam
,
bambam news
,
bambam updates
,
GOT7 Yugyeom
,
GOT7 Yugyeom news
,
GOT7 Yugyeom updates
,
yugyeom
,
Yugyeom news
,
Yugyeom updates
,
GOT7 Mark Tuan
,
GOT7 Mark Tuan news
,
GOT7 Mark Tuan updates
,
got7 mark
,
GOT7 Mark news
,
GOT7 Mark updates
,
Mark Tuan
,
Mark Tuan news
,
Mark Tuan Updates