Reunion Of A Lifetime, LE SSERAFIM's Sakura Shares How She Met Her Estranged Father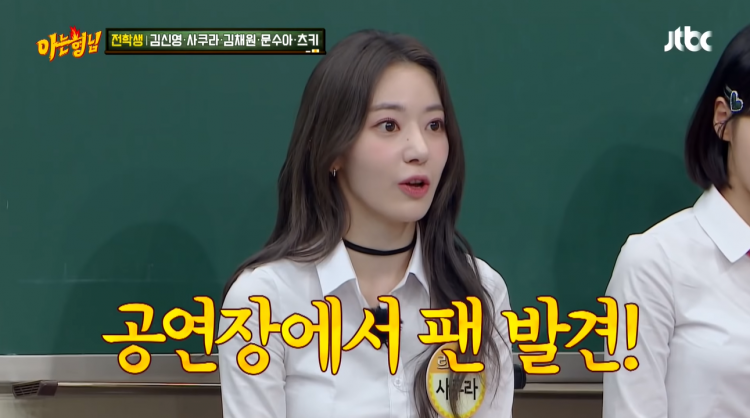 The resiliency of a parent to reunite with their child is one of the strongest things in the world. Evidently, LE SSERAFIM's Sakura revealed that she was able to meet her estranged father in a previous fan meeting.
READ: More Than Just An Artist, LE SSERAFIM's Yunjin Shares Dream Of Changing The Idol Industry
On the 14th of May, LE SSERAFIM's Sakura and Chaewon were featured as guests on an episode of JTBC's "Knowing Bros."
During a part of JTBC's "Knowing Bros," the cast asked Sakura to name the most memorable moment she has ever had with a fan. Amazingly, the LE SSERAFIM member shared that she had once met her estranged father via a fan event.
"There's one incident that stands out in my memory. When I was one year old, my parents got divorced. So I had never seen my father before, and I'd never even seen a photo of him, so I didn't know what his face looked like," LE SSERAFIM's Sakura revealed.
READ: All For One, LE SSERAFIM Members Assure Kim Garam That They Have Her Back
As per LE SSERAFIM's Sakura, this all happened when she had her first fan event back in her hometown in Japan. The idol revealed that a man came forward and told her that he was rooting for her. Sweetly, Sakura remarked that as soon as they shook hands, she knew, he was her father.
"I felt it right away," LE SSERAFIM's Sakura added.
Sakura continued that the man told her that he had been cheering the idol on. But as she was processing what was happening, she was then surprised by the next person in line: her grandmother, which is the mother of her father.
The LE SSERAFIM member admitted that her grandmother suddenly asked her, "Don't you remember us?" With that question, they proved that they were, in fact, Sakura's family.
READ: Changes & What Remain The Same, How Sakura & Chaewon's Relationship Evolved From IZ*ONE To LE SSERAFIM
"Knowing Bros" cast Lee Jin Ho then asked Sakura if she had ever seen her father again after the event. Sadly, the LE SSERAFIM member answered that she has not seen him since.
Watch what LE SSERAFIM's Sakura shared on "Knowing Bros" here:
© 2023 Korea Portal, All rights reserved. Do not reproduce without permission.
Tags:
kwave
,
kwave news
,
kwave updates
,
Kpop
,
kpop news
,
Kpop updates
,
JTBC
,
JTBC News
,
JTBC Updates
,
JTBC Knowing Bros
,
Knowing Bros
,
Knowing Bros news
,
Knowing Bros updates
,
Sakura Knowing Bros
,
Knowing Bros Sakura
,
LE SSERAFIM Sakura Knowing Bros
,
Knowing Bros LE SSERAFIM Sakura
,
HYBE
,
HYBE news
,
HYBE updates
,
HYBE LE SSERAFIM
,
HYBE Labels
,
HYBE Labels artists
,
HYBE Labels news
,
HYBE Labels updates
,
HYBE Labels LE SSERAFIM
,
LE SSERAFIM
,
LE SSERAFIM news
,
LE SSERAFIM updates
,
LE SSERAFIM Sakura
,
LE SSERAFIM Sakura news
,
LE SSERAFIM Sakura updates
,
Sakura
,
Sakura news
,
Sakura updates