Twitter Releases A Free Browser Game Set In The World Of Your Privacy Settings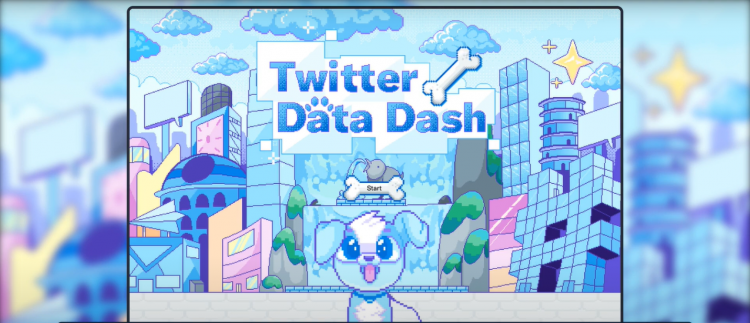 Twitter released a new browser game last Wednesday that's designed to help creatively explain some of the privacy settings in its platform. Have you ever wondered what it's like to roleplay with, well, data? You can do exactly that in Twitter Data Dash.
"Welcome to PrivaCity!" reads the description of the game on the site. "Get your dog, Data, safely to the park. Dodge cat ads, swim through a sea of DMs, battle trolls, and learn how to take control of your Twitter experience along the way."
READ: Sci-fi World EVE Online Has Incoming Microsoft Excel Support
When starting the game you'll first choose the language you prefer to play in, then select one of four characters who will accompany Data the dog across a handful of pixelized levels. Your chosen character will appear as a textbox portrait much like in an RPG game. The browser game itself is more of a typical side-scrolling platformer. Each level is themed around a Twitter privacy element such as one featuring cats wearing ad boards, or one that has you dodging trolls. Your goal will be to collect five bones as quickly as you can.
Twitter Data Dash was made by Momo Pixel. As you collect the bones, the game will explain something about Twitter's privacy settings related to that level and offer a button linking to Twitter's settings. For example, beating the cat ad level will reveal a message about how Twitter customizes your experience on the platform and points to where you can turn personalized ads on or off.
READ: Twitter Shares Test Demonstration That Adds CC Button For Video Attachments
Visually, the game uses a colorful pixel art aesthetic and plays uplifting retro music reminiscent of early GBA games. The character model designs offer distinguishable quirky flares that go well with the pastel-toned levels. Platforming is simple by using your arrow keys or WASD. Maneuvering can be clunky, however, but the game is lenient enough so you can take your time in making that jump between moving platforms.
Twitter introduced the game as part of a larger development around its privacy policy, which the company has rewritten. "We've emphasized clear language and moved away from legal jargon," Twitter said on its Safety account. "Beginning today, you can see the updates to our privacy policy and terms of service in the app via settings and on our redesigned privacy policy site."
You can try Twitter Data Dash now over here.
© 2023 Korea Portal, All rights reserved. Do not reproduce without permission.