Upcoming Activity & Message To Fans: Park Bo Gum Has Finally Returned From The Military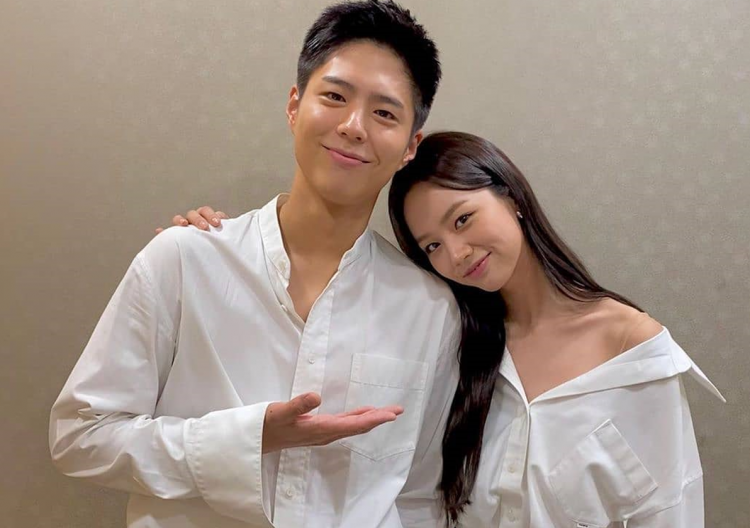 The "Record Of Youth" star has finally come home to fans!
READ: Netizens & Fans Melt As Park Bo Gum Earned A Special Certification During His Military Service!
Superstar Park Bo Gum previously enlisted for his mandatory military service on the 31st of August, 2020. Now, after serving almost two years, the actor has finally returned from the military.
To add to the amazing news, not only has Park Bo Gum's agency confirmed his first activity, but the actor himself has also personally penned a sweet message to fans.
Just recently, Park Bo Gum's agency Blossom Entertainment confirmed the actor's first activity after returning. "He is planning to greet fans through the Baeksang Arts Awards as his first activity after his discharge," Blossom Entertainment announced.
Unfortunately, Park Bo Gum was not able to join the MC lineup with Bae Suzy and Shin Dong Yup in 202. But this time, the actor will be able to host the 58th Baeksang Arts Awards alongside his fellow stars.
Healing this, Park Bo Gum's fans were filled to the brim with excitement. Netizens have tremendously missed the actor and it seems like the feeling is mutual. Just recently, Park Bo Gum released a letter to his fans on the Bo Gum Welfare Department, his official fancafe.
Park Bo Gum's heart-warming letter is as follows:
"Salute!
Reporting. South Korea's navy sergeant Park Bo Gum has received an order to discharge from April 30, 2022, onwards. Over.
Salute!
Hello, Bo Gum Welfare Department! The seventh season has passed, and I'm pleased to meet you again on this warm spring day. Thank you so much to everyone in the Bo Gum Welfare Department for becoming my forever friend in this vast world that brings me strength and expresses your endless love and support!
How have my forever friends been doing all this while?
As for me, I spent 20 months fulfilling all the things that I had vowed to do when I started my duties as a navy man. I used my downtime to exercise, read and attain certifications for skills, spending the time meaningfully. It is a pity to put an end to my life as a navy man as I had been able to entirely focus on myself and learn more about myself during this time where some days passed by slowly and others faster. More importantly, they were good times thanks to the gentlemen I met who respected and considerate each other.
I hope that you will be able to spend your days peacefully, smiling at the end of each day with a "Today was good." or "It was great!"
Let's be together again,
in the shining future."
Park Bo Gum is truly a sweetheart. Due to this, he is warmly welcomed by fans on his return. Everyone is also excited to see him make a comeback on the small and big screen soon.
Welcome back Park Bo Gum!
READ: A Soldier & A Goblin's Appetite: Must-Try K-Food Recipes From Your Favorite K-Dramas
© 2022 Korea Portal, All rights reserved. Do not reproduce without permission.
Tags:
Park Bo Gum
,
Park Bo Gum news
,
Park Bo Gum Updates
,
Park Bo Gum return
,
Park Bo Gum military service
,
Park Bo Gum military discharge
,
Park Bo Gum discharge
,
kwave
,
kwave news
,
kwave updates
,
Kdrama
,
kdrama news
,
kdrama updates
,
Blossom Entertainment
,
Blossom Entertainment news
,
Blossom Entertainment updates
,
Blossom Entertainment artists
,
Blossom Entertainment actors
,
Blossom Entertainment Park Bo Gum