Multiversal Cameos: What To Expect From Doctor Strange Multiverse of Madness' Reveal Of The Illuminati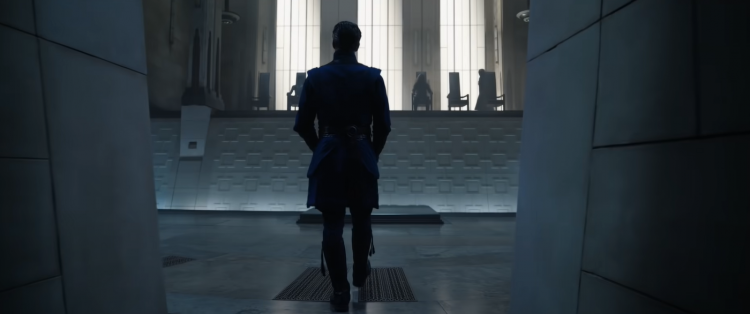 In less than a week, Doctor Strange will be spanning alternate realities when the Multiverse of Madness drops in theatres. Marvel released several teasers over the past months, featuring its key heroes in action as well as a row of unidentified yet not so unfamiliar characters: the Illuminati.
Benedict Cumberbatch's Steven Strange stars in Marvel Studios' upcoming Multiverse of Madness, alongside Elizabeth Olsen's Wanda or Scarlet Witch, and his friend and fellow sorcerer Wong portrayed by Benedict Wong.
READ: 'The Flash' & 'Fantastic Beasts' Actor Ezra Miller Recently Arrested Again In Hawaii
America Chavez will also come into the mix, to be played by Xochitl Gomez. In the comics, America Chavez can kick open star-shaped holes that let her literally jump into other realities across the multiverse. While her presence means it might be easier for Strange and the group to exit their reality, it's a two-tracked event, as it means characters from other worlds can easily enter theirs.
In the latest teaser of Multiverse of Madness, the dialogue from Mordo (Chiwetel Ejiofor) confirms that he'll come face-to-face with the MCU's Illuminati. In Marvel's comics, the Illuminati are a covert council of heroes consisting of representatives from different hero factions, like the Avengers, Wakanda, Fantastic Four, Atlantis, and, the X-Men.
A number of the original Illuminati members from the comics have already made appearances in the MCU like Iron Man, Black Panther, and Doctor Strange. In the past teasers, several fans have already deduced that Charles Xavier, the founder of the X-Men-or at least a variant of him-will also appear as he is an Illuminati member himself. The background voice of Patrick Stewart was what first gave the idea, but the iconic hoverchair strolling in the teaser pretty much confirms it.
READ: 'The Adam Project' Star Walker Scobell Cast As Percy Jackson For Upcoming Disney+ Live-Action Series
"These are my associates, for better or worse," says Iron Man in a comic panel with the Illuminati standing behind him. Coming from different factions, the members of the secretive council have clashed opinions more times than one, especially on how to deal with different reality-ending threats. It'll be interesting to see how having a hero council in the MCU could play out, in a universe where differences among heroes were enough to incite a Civil War.
The teaser also featured minute peeks of who could be a live-action Captain Peggy Carter and another variant of Captain Marvel. With the reveal of the Illuminati, it won't be far-fetched to encounter other members of their represented hero groups in the future.
A few years ago, teases or cameos of mutants existing in the MCU wouldn't be possible due to complications with the characters' cinematic rights that weren't resolved until 2019 when Disney bought 21st Century Fox. The Multiverse of Madness' plot about heroes from different dimensions and factions uniting to face a multiversal threat sets an excellent opportunity for Marvel to introduce "new" characters that fans have been waiting to see.
Doctor Strange in the Multiverse of Madness will hit theaters on May 6th.
© 2023 Korea Portal, All rights reserved. Do not reproduce without permission.