Google Enables New Safety Section That Helps Play Store Users In Gauging Apps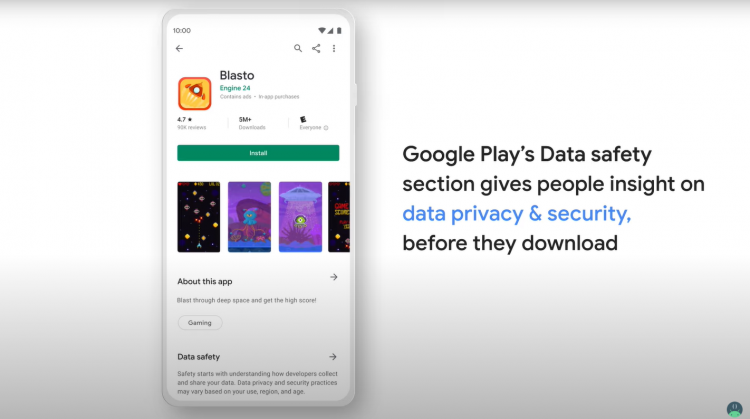 Google is rolling out a new Data safety section in the Play Store designed to show users additional detailed information about the data apps collect and how it is used. The section will be gradually rolling out for users in the weeks to follow, and app developers have until July 20th to add the information to their store listings.
According to Google's post, the section helps Google Play users understand how apps collect and share their data before they download, as well as aid developers to showcase their app's key privacy and security practices.
READ: Apple Appears To Be Removing Outdated Apps From The App Store
The store listing will show the data each developer is collecting, how or if they share it, their security practices such as data encryption in transit, and whether they accept requests for data deletion from users. If a developer is committed to following Google Play's Families Policy, an informational tag will declare it as well.
"You alone are responsible for making complete and accurate declarations in your app's store listing on Google Play. Google Play reviews apps across all policy requirements; however, we cannot make determinations on behalf of the developers of how they handle user data.," the support page detailed. "When Google becomes aware of a discrepancy between your app behavior and your declaration, we may take appropriate action, including enforcement action."
All developers who have an app published on the store must complete a Data safety form-including those with apps that do not collect any user data-and must provide a link to their privacy policy. In the meantime, apps that have not yet completed and submitted a PSL will display "No info available" in their app's store listing.
READ: Apple Fitness Plus Users Can Start Their BTS Choreography Training By Next Week
By July 20 of this year, any new app submissions and updates will be rejected in Play Console if the Data safety form is incomplete or has unaddressed issues. Developers will receive an email informing them if there are issues that need to be addressed. If there are no issues, apps will be approved and developers won't need to do anything.
Users and developers can read more information on the process through Google's support page. The initiative, first announced in the company's blog post in May 2021, is part of Google's ongoing attempts to ensure that Play Store apps respect user privacy and for users to better discern the applications they access.
© 2022 Korea Portal, All rights reserved. Do not reproduce without permission.