New Free iPad App Staybl Makes Using The Device Easier For People With Hand Tremors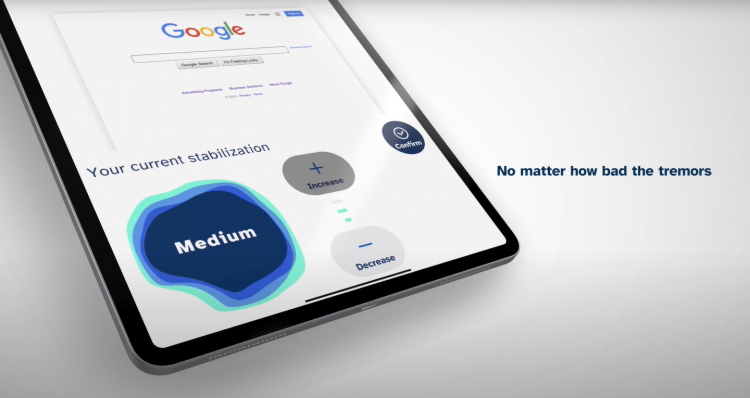 A new free app in the App Store called Staybl uses existing technologies in the iPad to make it easier to use for people dealing with involuntary hand tremors due to conditions like Parkinson's disease.
Staybl uses an iPad's internal accelerometer data to create visual counter-movements when the tablet is shaken in order to keep the current display steady on the screen. Users can choose from several presets designed for different tremor strengths.
READ: Apple's Latest iMovie Update Adds New Features That Help Speed Up Video Making
The app was developed by Global advertising company Havas New York and Havas Germany after two years of work, assisted by experts from the German Parkinson's Association and Parkinson's patients in Germany and the US.
Their long-term goal is to improve access to technology for those dealing with Parkinson's disease and other health issues that cause tremors. At the moment, the app is currently only available for use on Apple's iPad, but creators are planning to bring it to other devices and platforms in the future.
Today, Parkinson's disease is the second most common age-related neurodegenerative disorder after Alzheimer's disease. An estimate of about 7 to 10 million people worldwide have the condition. Tremors and balance problems are one of the earliest symptoms of Parkinson's.

Tremors make it difficult to perform simple tasks such as putting on clothes, eating, or using devices, and can impact a person's overall quality of life.

READ: 'The Adam Project' Star Walker Scobell Cast As Percy Jackson For Upcoming Disney+ Live-Action Series
"We always talk about how technology should improve our lives, but we don't naturally include everyone in those benefits," said Eric Schoeffler, the chief creative officer of Havas in Germany. "Staybl is not a medicine, nor is it a cure. However, it's a technological solution that can provide easier access to the digital world for all people with Parkinson's and tremors," Schoeffler added.
The app's browser also comes with other accessibility features. It removes swipe and slide gestures for navigation, provides larger, easier to press buttons, and more customizable settings to accommodate tremor symptoms that may vary throughout the day.
Apple iPad users can download the free app now through the App Store, currently only compatible with iPads running iPadOS 14 or later.
© 2023 Korea Portal, All rights reserved. Do not reproduce without permission.
Tags:
Staybl
,
Staybl news
,
Staybl updates
,
iPad Staybl
,
iPad Staybl news
,
iPad Staybl updates
,
Apple iPad Staybl
,
Apple iPad Staybl news
,
Apple iPad Staybl updates
,
Apple Staybl
,
Apple Staybl news
,
Apple Staybl updates
,
iPad
,
iPad news
,
iPad updates
,
US
,
US news
,
US updates
,
U.S.
,
U.S. news
,
U.S. updates
,
Apple
,
Apple News
,
Apple Updates