(G)I-DLE's Soyeon Harshly Judged For Writing Songs Due To Her Being A Woman!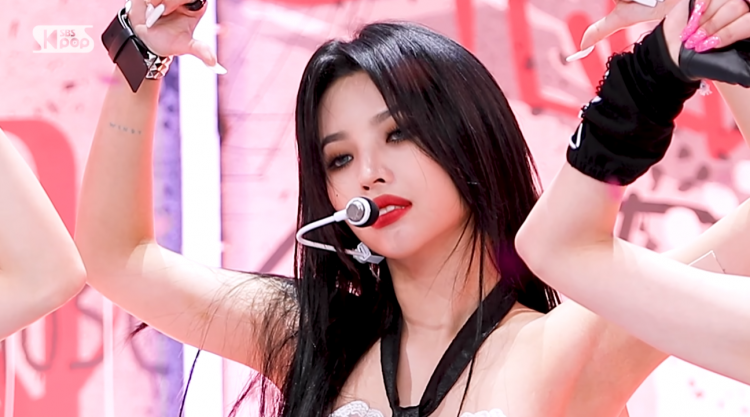 Jeon Soyeon is known as a successful rapper, producer, composer, soloist, and leader of Cube Entertainment's (G)I-DLE. Thus, it comes as no one's surprise that the K-pop star is extremely respected and loved in the industry. But her rise to fame did not start easily.
READ: (G)I-DLE's Minnie, Yuqi, & Soyeon Express Love For Fellow Members, Compare Album To 'One Piece', & More!
Since the debut of (G)I-DLE 4 years ago in 2018 with "LATATA", Jeon Soyeon has been producing and writing all of the K-pop girl group's title songs alongside a myriad of their B-side songs. She is also a popular soloist that also produces, writes, and composes her own songs.
In an interview with Teen Vogue as part of their promotions with their "TOMBOY" comeback, (G)I-DLE's Soyeon shared that while she is now respectively greatly for being a gifted songwriter, previously in her trainee days, the K-pop idol was judged as it was not yet normal for a female trainee to want to learn how to write and compose tracks.
READ: BTS, IU, (G)I-DLE, & More, March's Most Popular Singer In Terms Of Brand Reputation Rankings!
"Prior to debuting, it was rare for female idols to learn composition, so when I said I wanted to compose and produce, everyone thought it was strange," (G)I-DLE's Soyeon explained.
(G)I-DLE's Soyeon then talked about how difficult it was when she would bring up popular K-pop idol producers such as BIGBANG's G-Dragon or Block B's Zico, and then be told that it is okay for them to write their own music because they are men.
READ: Backs Against The Wall: Soyeon Admits That 'I NEVER DIE' Was (G)I-DLE's Last Chance!
(G)I-DLE's Soyeon added, "When talking about idols and producers like GD and Zico, they said, 'They are men.' Whenever I heard this, I wondered, 'What does that matter?'"
But, even though (G)I-DLE's Soyeon had a rocky start with her career, the K-pop idol has now gone beyond all expectations as she is now considered one of the best K-pop idol producers of the present generation.
READ: Netizens Praise (G)I-DLE For Amazing Live Vocal Skills, Though One Member Garners Criticism!
Stay tuned for more news and updates regarding (G)I-DLE and other K-pop artists!
© 2022 Korea Portal, All rights reserved. Do not reproduce without permission.
Tags:
kwave
,
kwave news
,
kwave updates
,
Kpop
,
kpop news
,
Kpop updates
,
CUBE
,
CUBE artists
,
Cube Entertainment
,
Cube Entertainment artists
,
Cube Entertainment news
,
Cube Entertainment updates
,
Cube Entertainment (G)I-DLE
,
Cube Entertainment (G)I-DLE Soyeon
,
Cube Entertainment (G)I-DLE Jeon Soyeon
,
Cube Entertainment Soyeon
,
Cube Entertainment Jeon Soyeon
,
(G)I-DLE
,
(G)I-DLE news
,
(G)I-DLE updates
,
(G)I-DLE Jeon Soyeon
,
(G)I-DLE Jeon Soyeon news
,
(G)I-DLE Jeon Soyeon updates
,
(G)I-DLE Soyeon
,
(G)I-DLE Soyeon news
,
(G)I-DLE Soyeon updates
,
Jeon Soyeon
,
Jeon Soyeon news
,
Jeon Soyeon updates
,
Soyeon
,
Soyeon news
,
Soyeon updates