Fans Outraged At Stray Kids' Stylist As Lee Know Wears An Uncomfortable & Accident-Prone Outfit!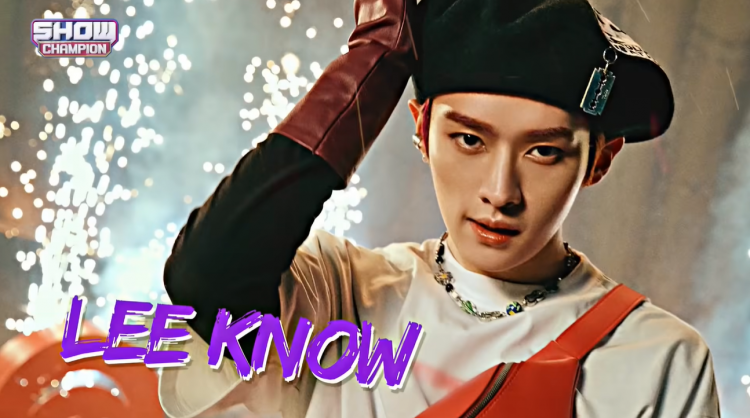 Stray Kids are currently busy with promotions for their "ODDINARY" comeback and although the K-pop boy group is perfectly styled for their "MANIAC" concept, fans were not too keen on Lee Know's attire as his recent fancam on "Show Champion" showed the idol struggling.
READ: Stray Kids' Changbin Delightfully Trends On Twitter For An Adorable Reason!
Although Lee Know is a powerful dancer with incredible intensity, fans noticed that he wasn't dancing with any of his usual power. And it was undeniable that it was the outfit that was making Lee Know uncomfortable.
In the fancam, the K-pop idol was struggling to readjust his attire on stage. Stray Kids' Lee Know was not only struggling to perform at his best level, but he also slipped and fell on the stage, making STAYs (the fandom of Stray Kids) even more worried.
Netizens and fans were not happy as even though Stray Kids' Lee Know has one of the most difficult floor choreographies for their comeback, the K-pop boy group's stylist made him rock gloves with spikes, which ultimately caused him to slip during their performance.
READ: JYP Ent Stock Reaches Greater Heights Thanks To Stray Kids' Newest Feat!
It was even noticed that Stray Kids' Lee Know was seen trying to take the spikes off during the boy group's performance. Fans believed the main reason was for the K-pop idol to not slip and/or hurt other members of Stray Kids.
Furthermore, Stray Kids' stylist was noted as being insensitive as well as they placed Lee Know in an outfit that kept coming off, which almost showed his stomach. The K-pop idol has previously shared that he does not feel comfortable showing his stomach due to a scar.
READ: Stray Kids' Is Out Of The 'ODDINARY, 'MANIAC' MV Surpass 50M Views!
Even though STAYs were extremely proud of Lee Know, the K-pop boy group's stylists were caught under fire for making the K-pop star wear an uncomfortable and dangerous outfit.
© 2022 Korea Portal, All rights reserved. Do not reproduce without permission.
Tags:
Show Champion
,
Show Champion news
,
Show Champion updates
,
Stray Kids Show Champion
,
Show Champion Stray Kids
,
kwave
,
kwave news
,
kwave updates
,
Kpop
,
kpop news
,
Kpop updates
,
JYP
,
JYP artists
,
JYP Entertainment
,
JYP Entertainment artists
,
JYP Entertainment news
,
JYP Entertainment updates
,
JYP Entertainment Lee Know
,
JYP Entertainment Stray Kids Lee Know
,
JYP Entertainment stray kids
,
stray kids
,
Stray Kids News
,
Stray Kids Updates
,
Stray Kids members
,
Stray Kids MANIAC
,
Stray Kids Lee Know
,
Stray Kids Lee Know news
,
Stray Kids Lee Know updates
,
Stray Kids stylist
,
Stray Kids stylists
,
Lee Know
,
Lee Know news
,
Lee Know updates