'Cry For Me' Almost Didn't Make It: TWICE Reveals JYP Entertainment's Previous Hesitations!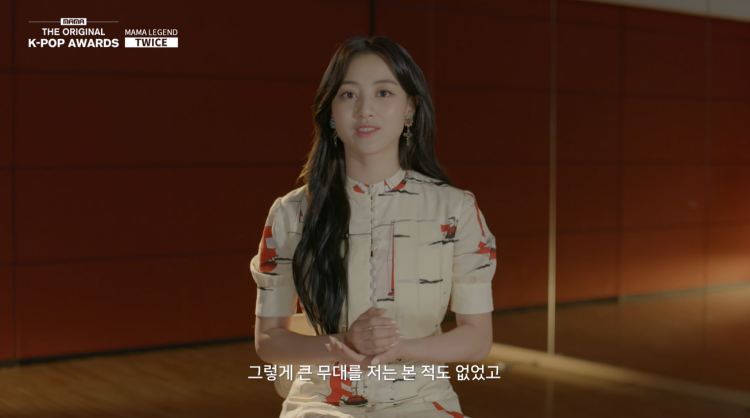 In a recent interview, the members of JYP Entertainment's TWICE shared that JYP Entertainment was at first not confident for the K-pop girl group to perform their hit "Cry For Me" in the previous 2020 Mnet Asian Music Awards (aka MAMA).
In a documentary video entitled "[MAMA THE ORIGINAL K-POP AWARDS] MAMA LEGEND TWICE (ENG/JPN)" released by Mnet, the members of TWICE talked about how the K-pop group how they were able to perform "Cry For Me" at the 2020 MAMA.
READ: ITZY's Yeji, BTS, TWICE, BLACKPINK's Lisa, & More: The Most Legendary K-Pop Performances Of 2021!
"We wanted to present something new for our fans, [so we thought], 'Why don't we perform 'Cry For Me' for the first time on MAMA?'. Someone brought that up and MAMA thankfully said yes," TWICE's Jihyo revealed.
But it was not an easy journey for the K-pop girl group to have their performance approved for the 2020 MAMA. TWICE's Jihyo noted that JYP Entertainment was hesitant. But as per the K-pop idol, most of the members insisted that they wanted to perform "Cry For Me."
TWICE's Sana further added that TWICE kept doing meetings with the director of JYP Entertainment. The members wanted to perform "Cry For Me" no matter what. TWICE said it would be great to do a performance even if they did not release an album.
Thus, the K-pop girl group had to prepare in a short amount of time, something TWICE is known to do due to their dedication in the industry.
It was also worth it as the members of TWICE then talked about how popular their performance of "Cry For Me" at the 2020 MAMAs was. The performance went on to influence the K-pop girl group's plans for upcoming musical releases in that year.
READ: TWICE Is The Best-Selling K-Pop Girl Group Of 2021, ITZY, aespa Enter Top 3 Beating Red Velvet And BLACKPINK
"Since we had no plans for an album, we were quite astonished by the reactions. Shouldn't we drop an album quickly? Should we just release a track? The power of MAMA got us to release a song," TWICE's Jihyo proudly shared.
This shows how passionate TWICE really is when it comes to their performances!
© 2023 Korea Portal, All rights reserved. Do not reproduce without permission.
Tags:
kwave
,
kwave news
,
kwave updates
,
Kpop
,
kpop news
,
Kpop updates
,
Mnet
,
mnet news
,
mnet updates
,
Mnet [MAMA THE ORIGINAL K-POP AWARDS] MAMA LEGEND TWICE (ENG/JPN)
,
[MAMA THE ORIGINAL K-POP AWARDS] MAMA LEGEND TWICE (ENG/JPN) Mnet
,
[MAMA THE ORIGINAL K-POP AWARDS] MAMA LEGEND TWICE (ENG/JPN)
,
TWICE [MAMA THE ORIGINAL K-POP AWARDS] MAMA LEGEND TWICE (ENG/JPN)
,
[MAMA THE ORIGINAL K-POP AWARDS] MAMA LEGEND TWICE (ENG/JPN) TWICE
,
2020 Mnet Asian Music Awards
,
2020 Mnet Asian Music Awards news
,
2020 Mnet Asian Music Awards updates
,
TWICE 2020 Mnet Asian Music Awards
,
2020 Mnet Asian Music Awards TWICE
,
Cry For Me 2020 Mnet Asian Music Awards
,
2020 Mnet Asian Music Awards Cry For Me
,
2020 MAMA
,
2020 MAMA TWICE
,
TWICE 2020 MAMA
,
2020 MAMA Cry For Me
,
Cry For Me
,
JYP
,
JYP artists
,
JYP Entertainment
,
JYP Entertainment artists
,
JYP Entertainment news
,
JYP Entertainment updates
,
JYP Entertainment TWICE
,
TWICE
,
TWICE news
,
TWICE Updates
,
TWICE members
,
TWICE performance
,
TWICE CRY FOR ME
,
TWICE CRY FOR ME performance MAMA 2020
,
Cry For Me performance
,
TWICE Cry For Me performance
,
twice jihyo
,
TWICE Sana
,
TWICE Nayeon
,
Jihyo
,
Sana
,
Nayeon