ITZY's Yeji, BTS, TWICE, BLACKPINK's Lisa, & More: The Most Legendary K-Pop Performances Of 2021!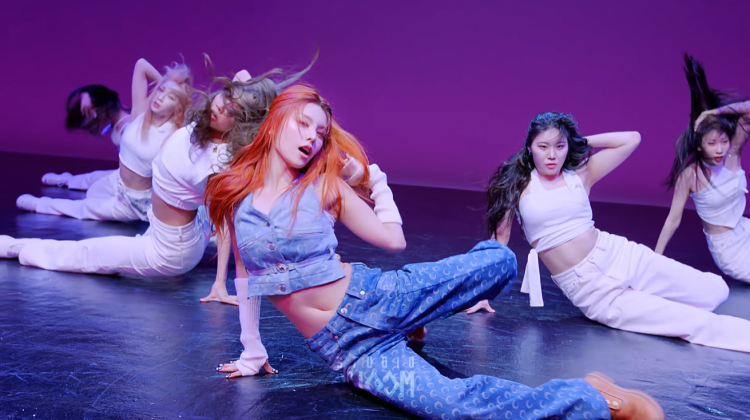 2021 was an amazing year for K-pop as fans and netizens witnessed a plethora of amazing performances from their favorite K-pop artists!
Notably, K-pop fans have been gifted with so many great and unforgettable performances from all the popular K-pop artists. Notably, Genius Korea has picked which K-pop performances were among the most iconic this year.
Here are the top 15 K-Pop performances chosen by Genius Korea for 2021:
#15 ITZY's Yeji - Studio Choom AOTM "River" dance performance
ITZY's Yeji flexed her charisma in her artist of the month performance. Not only did she slay her choreography, her facial expressions were all over the place, making viewers fall in love with the ITZY leader.
#14 Ailee and Gummy - Immortal Songs version of "Growl"
The chemistry of Ailee and Gummy was evident in their performance, and their strength was highlighted, surprising fans. Furthermore, Gummy's rap was simply off the roof, making their performance amongst the most legendary of this year.
#13 WOODZ - "Eyes, Nose, Lips" performance from KCON:TACT HI 5
Netizens and fans from all over the world could not help but praise WOODZ's cover. The song was already legendary, and WOODZ went on to elevate its status. This shows how amazing WOODZ really is.
#12 OnlyOneOf - Guilty Pleasure Version of "libidO" performance
All the members of OnlyOneOf showed their adult versions in the song, and their fans could not get enough of how perfectly they pulled off the concept. Their "libidO" performance was truly something out of the ordinary.
#11 BTS - "Butter" performance at The Late Show With Stephen Colbert
The members of BTS had nothing short of a perfect performance! They showed off each of their talents and visuals. "Butter" was already an amazing track, but their performance at "The Late Show With Stephen Colbert" was something that can not be compared.
#10 TWICE - "The Feels" performance at The Tonight Show Starring Jimmy Fallon
All the 9 members of TWICE killed it in their "The Feels" performance at "The Tonight Show Starring Jimmy Fallon" as they all revealed how talented they really are. TWICE truly is a global girl group, and this was proven in their performance.
#9 SEVENTEEN - "2 MINUS 1" (Live Performance) with Genius
Fans melted at the SEVENTEEN performance as Joshua and Vernon charmed them with their facial expressions, even though there was no choreography. The members of the K-pop boy group truly stood out with their smooth and silky vocals.
#8 HOOK - Bruno Mars Mix at Studio Choom
As expected from the group, their performance was sassy, dynamic, and full of power. Each dancer showcased their own personality, and it isn't surprising why the world fell in love with all the contestants on the show as they are so talented.
#7 TXT - "LO$ER=LO♡ER" (Office Attack Ver.) performance
HYBE's "4th generation IT boys" really showed what they could do as TXT's vocals and dancing ability were off the roof in their performance. Their "LO$ER=LO♡ER" performance had their fans at the edge of their seats.
#6 SF9 - "The Stealer" (The Scene) during Kingdom: The Legendary War
SF9, despite their amazing choreography, had their vocals shine. Notably, the members Inseong and Taeyang stood out due to their stable vocals and dancing skills. Their fans truly had a blast seeing the boys strut their stuff.
#5 BLACKPINK's Lisa - "Lili's Film (The Movie)" in her Lilifilm Official YouTube channel
BLACKPINK's main dancer and maknae really brought the heat with her performance in "Lili's Film (The Movie)." The Thai idol showed why her performance level is unrivaled, and fans all agreed that she slayed in her performance.
#4 BTS - "Fix You" (Coldplay cover) in MTV Unplugged
BTS made fans tear up as their rendition of "Fix You" was truly something different. ARMYs, their fandom name, were moved by all the vocals of the members, and it was evident why the 7-member K-pop boy group is globally acclaimed.
#3 SEVENTEEN's Hoshi - Intro+Spider (Special Stage) during M Countdown
Hoshi made fans know that he was not messing around during his "M Countdown" stage. The SEVENTEEN member began his performance with a charismatic entrance, and it all went uphill from there.
#2 Sunmi - "Tail" at Studio Choom
Not only does Sunmi have powerful visuals, but her talent is also unequivocally unmatched. In her Studio Choom performance, Sunmi showcased her skills in dancing, and fans truly had palpitations while seeing the soloist strut her stuff.
#1 ATEEZ - "Symphony No.9 'From The Wonderland'" during Kingdom: The Legendary War
Taking home the top spot is none other than ATEEZ. The K-pop boy group took home the hearts of fans as each member truly showcased what it means to be a K-pop star!
Congratulations to all K-pop artists who made Genius Korea's list!
© 2023 Korea Portal, All rights reserved. Do not reproduce without permission.
Tags:
kwave
,
kwave news
,
kwave updates
,
Kpop
,
kpop news
,
Kpop updates
,
Genius Korea
,
Genius Korea news
,
Genius Korea updates
,
2021 kpop performances
,
best 2021 kpop performances
,
most iconinc kpop performances
,
most legendary kpop performances
,
ITZY
,
ITZY Yeji
,
Ailee
,
Gummy
,
WOODZ
,
OnlyOneOf
,
BTS
,
TWICE
,
Seventeen
,
Hook
,
TXT
,
SF9
,
blackpink lisa
,
BLACKPINK Lisa Lili's Film (The Movie)
,
LILI'S FILM: The Movie
,
BTS Fix You
,
Fix You
,
Seventeen Hoshi
,
Sunmi
,
Sunmi Tail
,
ATEEZ
,
ATEEZ Symphony No.9 'From The Wonderland'
,
Symphony No.9 'From The Wonderland
,
Symphony No.9 'From The Wonderland
,
ATEEZ Symphony No.9 'From The Wonderland'
,
SF9 The Stealer
,
The Stealer
,
TXT LO$ER=LO♡ER
,
LO$ER=LO♡ER
,
SEVENTEEN 2 MINUS 1
,
2 MINUS 1
,
TWICE The Feels
,
The Feels
,
BTS Butter
,
Butter
,
OnlyOneOf libidO
,
libidO
,
WOODZ Eyes
,
Nose
,
Lips
,
Eyes
,
Nose
,
Lips
,
Ailee and Gummy
,
Ailee and Gummy Growl
,
Growl
,
ITZY Yeji River
,
River