Starting 2022 With Taste: Classic Korean Comfort Dishes That Are Also Loved By K-Pop Artists!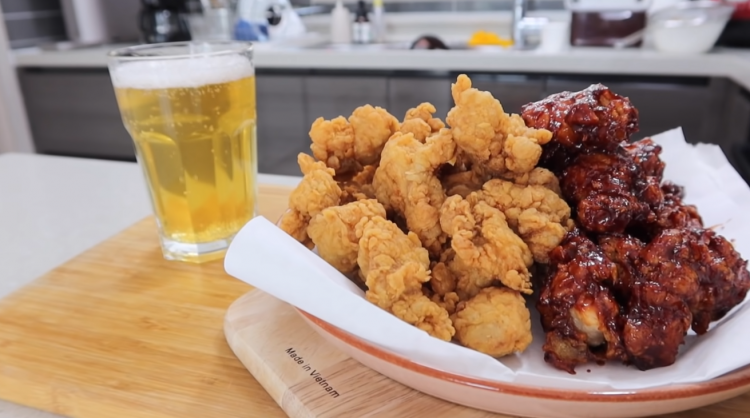 2022 is finally here, and with it comes a new sense of hope for a better year. Last year, although having its ups, had a plethora of downs, and almost everyone is asking for a positive change of pace.
READ: BLACKPINK's Rosé & Lisa, aespa, ONEUS, & TXT: K-Pop Artists On Genius's '50 Best Songs Of 2021'!
But although things such as K-pop songs and K-dramas surely get better in time, there are certain types of commodities that are simply better due to them being established, and of course, among these classics tested and proven goodies are food.
With that, here are the best foods to start off the year that are also some of the favorites of your favorite K-pop artists!
Fried Chicken
The crunch a person gets from biting into a truly crispy chicken is something that is hard to replicate. Among the people that love this dish is BTS's very Jin, more specifically Korean fried chicken, which is known for its amazing crunch and its sweet-and-spicy sauce.
Other K-pop idols who love fried chicken are THE BOYZ's Hyunjae, Highlight's Doojoon, SHINee's Onew, and EXO's Kai.
Cookies
Sometimes left for Santa under the tree with milk, other times eaten regularly either individually or by the bucket, cookies are something that can awaken the sweet tooth of anyone.
Notably, TWICE's very own Tzuyu loves cookies, but she has a somewhat weird way of eating them. The TWICE maknae admittedly enjoys crumbling cookies over rice and eating it as a snack.
Sundubu Jjigae
January is still known for its coldness and what's a better way to combat the cold rather than to enjoy a hot bowl of stew? More specifically, Sundubu Jjigae.
Known also as a Korean soft tofu stew, this dish is made up of pork belly dipped in spicy soup. GOT7's very own leader Jay B and Super Junior's Donghae are known to enjoy this regularly.
Tteokbokki
One of the most popular Korean street foods, Tteokbokki is something that should be on everyone's list when it comes to comfort food. This Korean staple is stir-fried rice cakes that are coated with sweet and spicy red sauce. Either alone or with eggs, this is the way to go if you want to start 2022 well.
Tteokbokki is also the favorite food of MAMAMOO's Solar, Cosmic Girls' Mei Qi, PENTAGON's Yuto, SEVENTEEN's Joshua, SF9's Taeyang, and also TWICE's Jeongyeon.
Gopchang
Gopchang is plainly the intestine of cows, and it is commonly served grilled, sometimes tableside, and often served with a chive or scallion salad on the side, alongside small bowls of salt and sesame oil for dipping.
MAMAMOO's very own Hwasa is a huge fan of gopchang. She is even dubbed the "Gopchang Goddess."
Stay tuned for more news and updates regarding yummy food and your favorite K-pop artists!
© 2023 Korea Portal, All rights reserved. Do not reproduce without permission.
Tags:
kwave
,
kwave news
,
kwave updates
,
Kpop
,
kpop news
,
Kpop updates
,
Korean food
,
Korean dishes
,
Korean fried chicken
,
Cookies
,
Sundubu Jjigae
,
Tteokbokki
,
Gopchang
,
Mamamoo
,
MAMAMOO Hwasa
,
Hwasa
,
mamamoo solar
,
solar
,
Cosmic Girls
,
Cosmic Girls Mei Qi
,
Mei Qi
,
Pentagon
,
PENTAGON Yuto
,
Yuto
,
Seventeen
,
SEVENTEEN Joshua
,
Joshua
,
SF9
,
SF9 Taeyang
,
Taeyang
,
TWICE
,
TWICE Jeongyeon
,
Jeongyeon
,
GOT7
,
got7 jay b
,
Jay B
,
Super Junior
,
Super Junior Donghae
,
Donghae
,
Twice Tzuyu
,
Tzuyu
,
BTS
,
BTS Jin
,
Jin
,
The Boyz
,
THE BOYZ Hyunjae
,
Hyunjae
,
HIGHLIGHT
,
Highlight Doojoon
,
Doojoon
,
SHINee
,
SHINee Onew
,
Onew
,
EXO
,
EXO Kai
,
KAI