Some Netizens Are 'Canceling' Starship Entertainment's IVE, Find Out Here Why!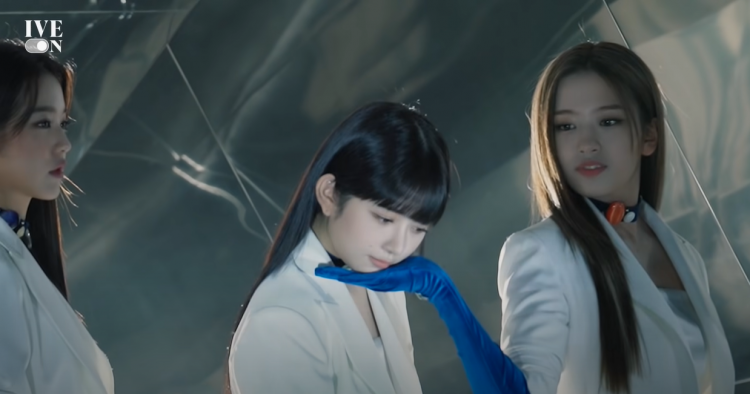 Just recently, IVE posted their first behind-the-scenes video for the MV of their debut song "ELEVEN." Although fans were in awe and cheering the girls on, a handful of netizens noticed a part where IVE's Yujin, Rei, and Wonyoung were allegedly making fun of Desi culture.
At around the 9:44 mark of the 13-minute video, IVE's Yujin was seen placing her hand under IVE Rei's chin. She then starts moving her hand, while Rei bobs her similarly to the way it is done in Desi dances.
READ: Monster Rookie IVE Achieves New Milestone In Hanteo History
Adding to this, the caption then reads, "Dduru dduru ddu" while the two begin to laugh. Following this, IVE's Rei then tries to put her hand under Jang Wonyoung's chin. IVE's Yujin, Rei, and Wonyoung then all proceed to bop their heads.
Netizens point out that the head movements done by the members of IVE were similar to the traditional Desi dance, "attami." The head movement is also present in a plethora of other Indian cultural dances.
Since the Desi dances are considered special and even sacred to others, some netizens have noted that the way they were used by IVE's Yujin, Rei, and Wonyoung were to mock or make fun of the Desi culture.
The aforementioned clip has now gone viral on multiple social media platforms and many netizens have gone on to demand the IVE's Yujin, Rei, and Wonyoung should make an apology. Others have even gone to the extent of canceling the Starship Entertainment girl group.
A lot of netizens are upset and disappointed at IVE as they are less than a month old and the members are already embroiled in a scandal. Not all feel the same sentiments though as fans and some netizens have defended IVE's Yujin, Rei, and Wonyoung.
As of writing this article, neither Starship Entertainment nor IVE's Yujin, Rei, and Wonyoung have released a statement on the matter.
© 2023 Korea Portal, All rights reserved. Do not reproduce without permission.
Tags:
kwave
,
kwave news
,
kwave updates
,
Kpop
,
kpop news
,
Kpop updates
,
Starship Entertainment
,
Starship Entertainment artists
,
Starship Entertainment IVE
,
Starship Entertainment IVE Rei
,
Starship Entertainment IVE Wonyoung
,
Starship Entertainment IVE Yujin
,
Starship Entertainment news
,
Starship Entertainment updates
,
Starship Entertainment Rei
,
Starship Entertainment Wonyoung
,
Starship Entertainment Yujin
,
IVE
,
IVE news
,
IVE updates
,
IVE ELEVEN
,
IVE Wonyoung
,
IVE Wonyoung news
,
IVE Wonyoung updates
,
IVE Yujin
,
IVE Yujin news
,
IVE Yujin updates
,
IVE Rei
,
IVE Rei news
,
IVE Rei updates
,
Rei
,
Rei news
,
Rei updates
,
Yujin
,
Yujin news
,
Yujin updates
,
Wonyoung
,
Wonyoung news
,
Wonyoung updates