TWICE's Jeongyeon Reacts To Gong Seung Yeon Mentioning Her In Her Blue Dragon Film Awards Speech!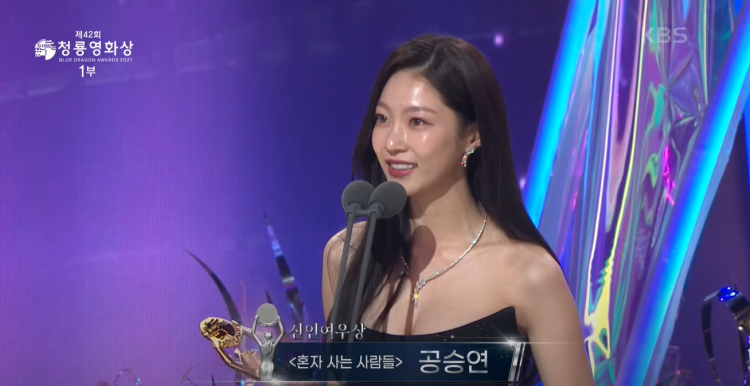 As of writing this article, two days ago on the 26th of November, actress Gong Seung Yeon bagged the "Best New Actress Award" at the 42nd Blue Dragon Film Awards for her film entitled "Aloners".
READ: 'Escape From Mogadishu,' Song Joong Ki, YoonA And More Win Big At 42nd Blue Dragon Film Awards
Similar to most award winners, Gong Seung Yeon was able to go up the stage and give a speech. As she had an emotional speech, she still found a way to keep things light-hearted, which is something her sister TWICE's Jeongyeon, also has the ability to do.
"To be honest, I was hoping yesterday that I might win, so I tried quickly preparing an acceptance speech. But my younger sister laughed at me, so I thought, 'Oh, I must have gone overboard.' If I'd known that I was going to win. I should have properly prepared a speech," Gong Seung Yeon adorably expressed.
Following this, TWICE's Jeongyeon was quick to make a response to her older sister's remarks during her acceptance speech at the Blue Dragon Film Awards.
READ: Sana Reveals Jeongyeon's Secret Ability To Make All The Members Of TWICE Happy!
Not long after the awards show, TWICE's Jeongyeon posted updates on TWICE's Instagram stories to show love and appreciation towards her sister, among other things. In the story update, TWICE's Jeongyeon posted a video of her sister's acceptance speech as she was watching at home.
In the story posted, TWICE's Jeongyeon captioned, "My unnie , I wasn't laughing at you. On the inside, I actually expected you to win!!!! My cool older sister, congratulations, I'm so happy for you, and I'm rooting for you to meet more great projects in the future and get rich!!!!!! I love you so much. When we meet later, I'll hug you."
TWICE's Jeongyeon is truly a sweet yet mischievous sister.
READ: ONCEs Melt As TWICE's Jeongyeon Expresses Love For Fans While Still On Hiatus!
Congratulations to actress Gong Seung Yeon for winning the "Best New Actress Award" at the 42nd Blue Dragon Film Awards!
© 2023 Korea Portal, All rights reserved. Do not reproduce without permission.
Tags:
kwave
,
kwave news
,
kwave updates
,
Kpop
,
kpop news
,
Kpop updates
,
kmovie
,
kmovie news
,
kmovie updates
,
42nd Blue Dragon Film Awards
,
Blue Dragon Film Awards
,
42nd Blue Dragon Film Awards Gong Seung Yeon
,
Gong Seung Yeon 42nd Blue Dragon Film Awards
,
42nd Blue Dragon Film Awards Best New Actress Award
,
Best New Actress Award
,
Best New Actress Award Gong Seung Yeon
,
Gong Seung Yeon Best New Actress Award
,
Gong Seung Yeon
,
Gong Seung Yeon Aloners
,
Aloners
,
Aloners news
,
Aloners updates
,
Gong Seung Yeon news
,
Gong Seung Yeon updates
,
Gong Seung Yeon and Jeongyeon
,
Jeongyeon and Gong Seung Yeon
,
TWICE's Jeongyeon and Gong Seung Yeon
,
Gong Seung Yeon and TWICE's Jeongyeon
,
JYP
,
JYP artists
,
JYP Entertainment
,
JYP Entertainment artists
,
JYP Entertainment news
,
JYP Entertainment updates
,
JYP Entertainment TWICE
,
JYP Entertainment Jeongyeon
,
JYP Entertainment TWICE Jeongyeon
,
TWICE
,
TWICE news
,
TWICE Updates
,
TWICE Jeongyeon
,
TWICE Jeongyeon news
,
TWICE Jeongyeon updates
,
Jeongyeon
,
Jeongyeon news
,
Jeongyeon updates