Sana Reveals Jeongyeon's Secret Ability To Make All The Members Of TWICE Happy!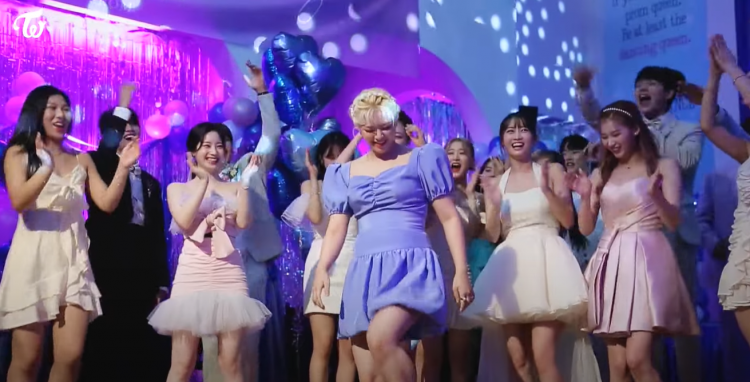 The members of TWICE have been together for almost seven years and it is safe to say that each member knows one another to their fullest extent.
Notably, this was previously evident in a recent interview as Sana noted how Jeongyeon cheered up all the members of TWICE via an adorable and wholesome act.
TWICE's Jeongyeon is known for her vocals, visuals, reserved personality, and ability to make people happy. In a previous shooting, the latter was proved as she made all the members of TWICE, including the staff, happy on the music video set for TWICE's English release, "The Feels."
In a recent interview, the members of JYP Entertainment's TWICE were asked, "Do you have any memorable experiences from filming the music video for 'The Feels?'"
Almost immediately, TWICE's Sana revealed to the interviewer that the freestyle dancing section of the music video was the most fun part to film.
TWICE's Sana shared, "The music video is a prom party with our dancers. In it, we do some freestyle dancing and there's a part where Jeongyeon dances."
TWICE's Sana continued by revealing that the whole scene was not added in the music video, but she hoped that one day it will be released to the public, and ONCEs, the fandom name of TWICE, get to see it because it is really awesome.
As per Sana, TWICE's Jeongyeon really brightened up the mood of the entire studio.
To the delight of ONCEs, TWICE Jeongyeon's freestyle dance was included in the third behind-the-scenes video from the set of "The Feels" music video and fans got to see the full dance, to the delight of Sana.
The behind-the-scenes video showed the TWICE members' reactions to Jeongyeon's dance, and their laughter and smiles made it obvious that she really did brighten everyone's moods, similarly to what Sana shared.
© 2022 Korea Portal, All rights reserved. Do not reproduce without permission.
Tags:
kwave
,
kwave news
,
kwave updates
,
Kpop
,
kpop news
,
Kpop updates
,
JYP
,
JYP artists
,
JYP Entertainment
,
JYP Entertainment artists
,
JYP Entertainment news
,
JYP Entertainment updates
,
JYP Entertainment TWICE
,
TWICE
,
TWICE news
,
TWICE Updates
,
TWICE members
,
TWICE The Feels
,
The Feels
,
TWICE Sana
,
TWICE Jeongyeon
,
TWICE Jeongyeon news
,
TWICE Jeongyeon updates
,
TWICE Sana news
,
TWICE Sana updates
,
Sana
,
Sana news
,
Sana updates
,
Jeongyeon
,
Jeongyeon news
,
Jeongyeon updates