6 Years With TWICE: Tzuyu, Jeongyeon, & Jihyo, Talk About Their Journey With Young ONCEs!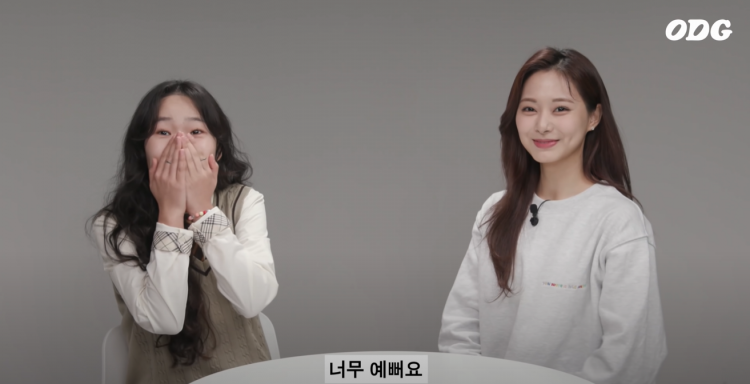 Has it really been 6 years? JYP Entertainment's TWICE debuted in 2015 and since then, they have been setting records and breaking boundaries with every release and comeback.
READ: TWICE Edges TWICE: 'Formula Of Love: O+T=<3' Overcomes 'Taste of Love' In Sales!
Thus, it was only fitting that TWICE's Jungyeon, Jihyo, and Tzuyu became featured in ODG's video "Kids review TWICE's career," which was uploaded on the 19th of November on ODG's YouTube channel.
In the video, the members of TWICE had special 'alone time' alongside one high-school student, and each interaction was incredibly special and wholesome.
Initially, TWICE's Jihyo naturally had her charming aura and charisma, making the young fan paired with her out of breath. Jihyo talked about TWICE's journey, and the high-school student seemed so star-struck, it looked as though he could not believe he was really beside TWICE's Jihyo.
However, when Jihyo asked which K-pop group was the student's favorite, he hilariously responded with 'I.O.I', and the reaction of TWICE's leader was nothing short of adorable.
Furthermore, TWICE's Tzuyu had a particularly funny talk with her partner. This happened when the student said that Tzuyu had made her debut under YG Entertainment. Hearing this, she reacted in the most hilarious way possible.
TWICE's Tzuyu also talked about her journey with TWIC, and similar to Jihyo, her partner also shared how she grew up listening to TWICE.
But among the three members and their partners, TWICE's Jeongyeon had the most screen time. In their talk, the high school student told Jeongyeon that she was beautiful in the fans' eyes and the TWICE member simply melted when she heard that.
READ: TWICE's Jeongyeon, Red Velvet's Irene, aespa's Winter, & More, November's Most Popular Girl Group Member!
The three members of TWICE truly had a special time alongside their partners and the video overall was very emotional to ONCEs as they can truly see the journey they have had alongside the members of TWICE.
© 2022 Korea Portal, All rights reserved. Do not reproduce without permission.
Tags:
kwave
,
kwave news
,
kwave updates
,
Kpop
,
kpop news
,
Kpop updates
,
JYP
,
JYP artists
,
JYP Entertainment
,
JYP Entertainment artists
,
JYP Entertainment news
,
JYP Entertainment updates
,
JYP Entertainment TWICE
,
JYP Entertainment TWICE Jihyo
,
JYP Entertainment TWICE Tzuyu
,
JYP Entertainment TWICE Jeongyeon
,
JYP Entertainment Jihyo
,
JYP Entertainment Tzuyu
,
JYP Entertainment Jeongyeon
,
TWICE
,
odg TWICE
,
TWICE odg
,
odg
,
odg news
,
odg updates
,
odg Kids review TWICE's career
,
Kids review TWICE's career
,
TWICE news
,
TWICE Updates
,
TWICE members
,
twice jihyo
,
TWICE Jihyo news
,
twice jihyo updates
,
Twice Tzuyu
,
TWICE Tzuyu news
,
TWICE Tzuyu updates
,
TWICE Jeongyeon
,
TWICE Jeongyeon news
,
TWICE Jeongyeon updates
,
Jihyo
,
Jihyo news
,
Jihyo updates
,
Tzuyu
,
Tzuyu News
,
Tzuyu updates
,
Jeongyeon
,
Jeongyeon news
,
Jeongyeon updates