TWICE Overcomes IU's 'Strawberry Moon', Recieving First Win On 'Music Bank' For 'SCIENTIST'!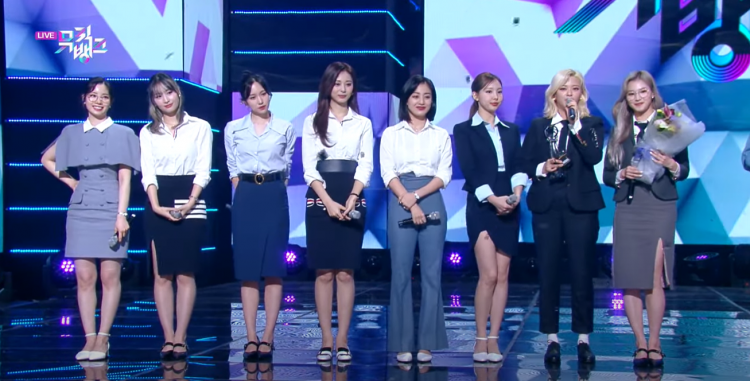 Are you proud, ONCEs? TWICE just received their first win for their most recent comeback!
READ: ONCEs Thrilled As TWICE's Jihyo Gets Featured In Wholesome 'The Body Shop' Campaign!
Released on the 12th of November, TWICE's most recent title track entitled "SCIENTIST" was among 14 songs featured on TWICE's most recent album, "Formula of Love: O+T=<3." The title track once again makes listeners feel the iconic vibe of TWICE, which is bubbly yet mature!
TWICE's most recent title track was so acclaimed by fans, it was able to garner its first win on a major music show, to the delight of ONCEs, the fandom name of TWICE!
READ: Following His Recent 'Issue' With TWICE's Tzuyu & Dahyun, ONCEs Spam Park Myung Soo's Instagram!
The episode of "Music Bank," which aired on the 19th of November, had TWICE's "SCIENTIST" and IU's "strawberry moon" go against one another, vying for the show's first place.
After a thrilling tallying of points which initially seemed way too close, TWICE eventually came out on top as they got their first win for "SCIENTIST" with 4,133 points. Notably, IU was close as "strawberry moon" garnered 4,071 points!
TWICE seems to be slated to garner more success with "SCIENTIST" as ONCEs are showing more and more support for their most recent comeback!
Congratulations to TWICE for the amazing win with their most recent title track, "SCIENTIST," on "Music Bank"!
READ: TWICE, ITZY, EVERGLOW, NCT, & More, K-Pop Artists Who Are Making A Comeback This December!
Furthermore, "Music Bank" had a plethora of amazing K-pop artists as performers and among them were Billlie, bugAboo, LIGHTSUM, MONSTA X, SECRET NUMBER, TO1, TWICE, DKB, LABOUM, BLITZERS, Song Ha Ye, ICHILLIN,' ONEUS, Weki Meki, Younha, Lee Ye Joon, Jeong Dong Won, and Cho Hye Sun.
Stay tuned for more news and updates regarding your favorite K-pop artists!
© 2023 Korea Portal, All rights reserved. Do not reproduce without permission.
Tags:
KBS
,
KBS awards show
,
KBS Music Bank
,
KBS Music Bank news
,
KBS Music Bank updates
,
TWICE KBS Music Bank
,
IU KBS Music Bank
,
KBS Music Bank TWICE
,
KBS Music Bank IU
,
Music Bank
,
music bank news
,
Music Bank updates
,
IU Music Bank
,
Music Bank IU
,
TWICE Music Bank
,
Music Bank TWICE
,
kwave
,
kwave news
,
kwave updates
,
Kpop
,
kpop news
,
Kpop updates
,
JYP
,
JYP artists
,
JYP Entertainment
,
JYP Entertainment artists
,
JYP Entertainment TWICE
,
TWICE
,
TWICE news
,
TWICE Updates
,
TWICE comeback
,
TWICE Scientist
,
TWICE Formula of Love: O+T=<3
,
SCIENTIST
,
Formula of Love: O+T=<3
,
EDAM
,
EDAM artists
,
Edam Entertainment
,
Edam Entertainment artists
,
Edam Entertainment IU
,
IU
,
IU news
,
IU Updates
,
IU Strawberry Moon
,
Strawberry Moon
,
Billlie
,
bugAboo
,
LIGHTSUM
,
MONSTA X
,
Secret Number
,
TO1
,
dkb
,
Laboum
,
BLITZERS
,
Song Ha Ye
,
ICHILLIN
,
ONEUS
,
Weki Meki
,
Younha
,
Lee Ye Joon
,
Jeong Dong Won
,
Cho Hye Sun