Chef IU Makes Netizens Laugh As She Adorably Forgot Something While Baking!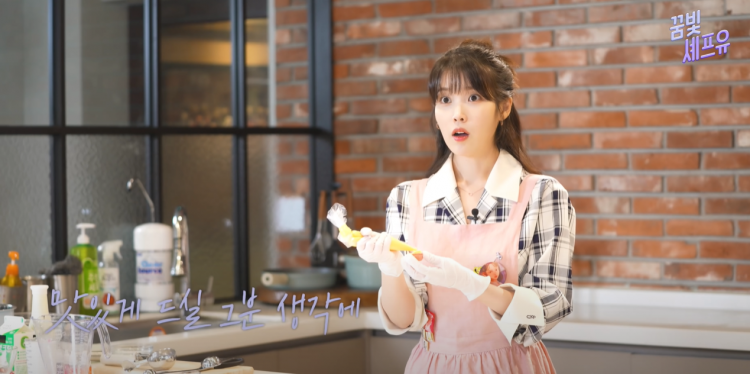 IU once again returned to the kitchen for a second episode of "LET'S COOK with CHEF IU" to celebrate her newest musical release, "Strawberry Moon."
In this episode, the soloist had a pink theme as she was focusing on making strawberry macarons and strawberry ice cream! IU was notably following written instructions and she began the process of making macarons.
To no one's surprise though, particularly bakers who have experience with an oven, nothing goes exactly as planned whenever a person bakes. IU once again shows her relatable side as she adorably forgot something as she was preparing the desserts.
While IU was preparing and making her jam, she went to check on her shells for the macaroons.
To her surprise, when took the macaron shells out, she realized that they were not baked at all, still being raw. IU and her staff were confused as to why her macaron shells were still raw and not cooked at all.
One staff member came along to see the problem and that was when the staff and IU realized that the oven was not working even though it was switched on as it was not yet plugged.
IU was very surprised and this notably made her work even harder. But, known for her improvising skills, IU took this opportunity to give advice to her viewers.
"Double-check every step when making macarons. Never trust yourself. And, if your PD is in front of you, doubt him the most," IU hilariously taught her viewers.
But after plugging it in, IU eventually finished her macaron shells and she began assembling the sweet treat without even breaking a sweat. IU even had Shin Se Kyung, a fellow artist from EDAM Entertainment, try her macarons.
Similar to her first episode of "LET'S COOK with CHEF IU," although she had a little slip-up, IU was still able to create something yummy!
© 2023 Korea Portal, All rights reserved. Do not reproduce without permission.