Accidental Burn, Mess, & More, IU Flexes Her Cooking Abilities In Anniversary Celebration!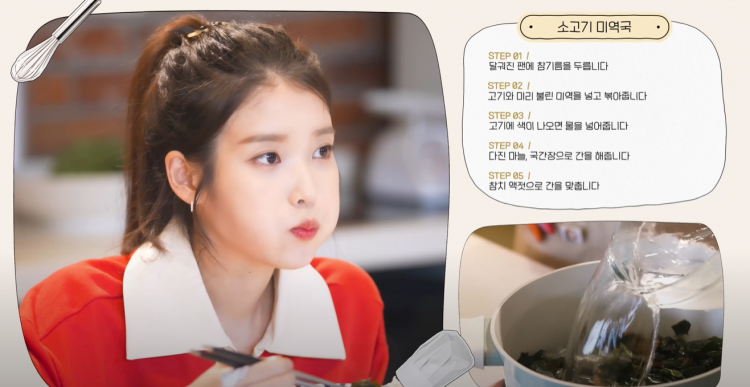 IU recently celebrated her 13th anniversary in the industry, deciding to upload a cooking video on her personal YouTube channel.
The EDAM Entertainment artist wanted to show Uaenas (the name of her fandom) how she prepares seaweed soup as a gift, but fans got more than that as IU showed how relatable she is in the kitchen.
Although being talented on multiple things (albeit not believing it) IU shared she is not known as a cook. So the "LILAC" singer expressed to viewers the things they should and should not expect.
"Perhaps you expected me to burn everything I make, spill sugar, or something like that. I apologize, if something like that is what you expected this time. I'm sorry to disappoint you," IU noted.
As she began cooking, IU hilariously and adorably chose not to use proper measuring tools, choosing to follow her instincts on the matter. This was really relatable as most viewers were guilty of 'eyeballing' what they cooked.
Furthermore, as IU began stir-frying her vegetables, her staff asked her if she was messy at home, similar to how she was now.
IU adorably responded, "I live alone anyway, if it gets all messy, so what? Whatever, I'm the one to clean it up anyway!"
Unfortunately though, as IU was asking her staff to try her cooking, she did not notice how close her pot and pan were, accidentally burning her arm on the hot dish. But like a big girl, IU brushed it off even giving advice to viewers.
IU adorably told her viewers, "Guys, if you happen to get a burn from something like this, then quickly apply some cold, running water so that it cools down. If you apply ice on it, it could make things actually worse, you know?"
Congratulations on being active for 13 years, IU!
© 2023 Korea Portal, All rights reserved. Do not reproduce without permission.