Love For Fans, Mint Chocolate, Inspirational Showers, & More, IU Goes All Out With Elle!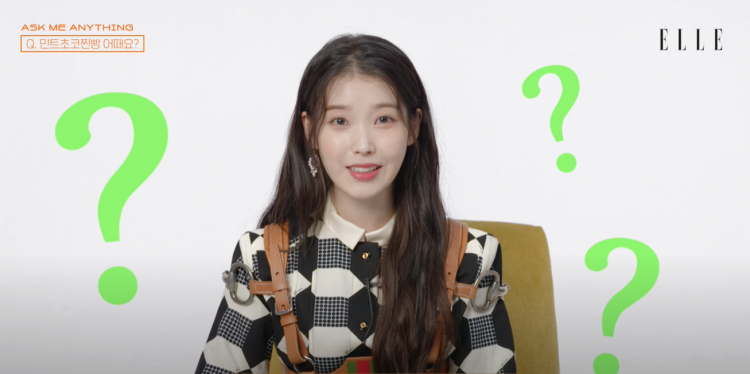 IU blessed fans as she was the cover for Elle's November issue! Furthermore, she was recently featured in a video interview where she answered the questions of fans!
In IU's interview with Elle Korea, IU started by answering a question about her favorite outfit from the pictorial, choosing the red suit and sparkly blue dress as her favorites.
The second question was pointed towards IU's MBTI personality type. IU revealed, "I took the test again and got INFJ, but I actually can't remember if the last letter was P or J." But IU noted that she identifies more with the INFJ type since she cannot go on a trip without planning.
Furthermore, IU is known for loving mint chocolate. But is she really though? When asked whether or not she would eat a mint chocolate-flavored steamed bun, she answered "I've learned something new about myself recently. I think I only like mint chocolate when it's in the form of ice cream. I must only understand the appeal of mint chocolate when it's cold."
One question then asked if there was an item IU wanted to recommend to her fans, decidedly recommended a retainer, something she personally uses while sleeping so that she would not clench her teeth.
Additionally, when asked to sing part of one of her songs that reflects her current mood, IU chose a certain line from "Unlucky," a song from her album entitled "Love Poem."
Fans also got an update from IU regarding how she recently feels physically, explaining that she has learned to accept the changes in her body and personality as she is nearing her 30s.
IU revealed, "Even my habits that felt like they would never change just change every day. I keep meeting new versions of myself, but I'm satisfied no matter which version it is."
IU also shares the time when she is at her song-writing peak, sharing that it is when she takes a shower. As per IU, when she goes to take a shower, she can get at least one line done.
"I might spend all day just messing around, but as soon as I go for a shower, that's when it's time for work," IU adorably explained.
The final question in the interview caught IU off guard as she was asked if she would rather remember UAENAs, her fandom name, or be remembered by them. IU's answer was sweet as she explained that remembering her fans would be 'a more poetic answer'.
"If I'm put in a terrible situation and forget UAENA, although that sort of situation would never happen, I hope that UAENA would remember me forever. If I'm being honest," IU sweetly concluded.
© 2023 Korea Portal, All rights reserved. Do not reproduce without permission.