Netizens Melt Towards the Adorable Friendship Of Angelina Jolie & Ma Dong Seok of Marvel's 'Eternals'!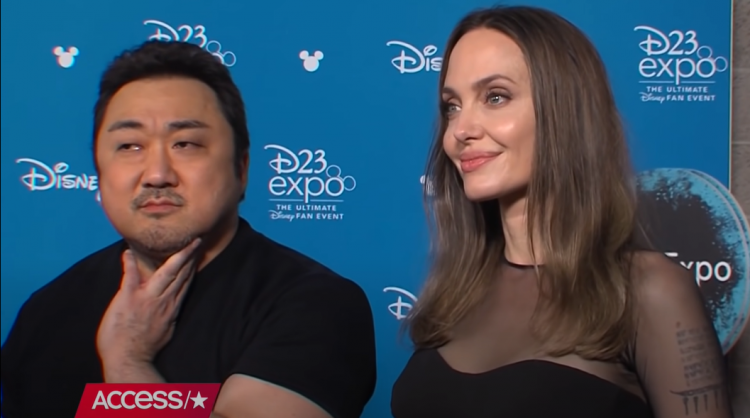 Marvel is not just blossoming another hit MCU film with "Eternals," but close friendships between the cast as well, in particular the adorable bond between Angelina Jolie and Ma Dong Seok!
This was evident as the two global artists were caught by fans in the world premiere of "Eternals," where Angelina Jolie literally stopped her interview to greet Ma Dong Seok, also known as Don Lee!
Another recent interaction on the 22nd of October occurred that had fans in awe as the film held its Korean press conference, and Ma Dong Seok talked about how he was cast for Marvel's "Eternals" as the character Gilgamesh who has a bond with Thena, Angelina Jolie's character.
In the interview, to the delight of fans, Angelina Jolie suddenly embraced Ma Dong Seok.
Ma Dong Seok revealed that due to COVID-19, he and Angelina Jolie felt sad that they were not able to go to Korea to promote the "Eternals" in person. He also added how well he and Angelina Jolie worked together.
"The filming took place before COVID-19. She said she wanted to visit Korea together to greet everyone and meet her Korean fans. She wasn't able to for the past 2 years due to the unfortunate global situation, so when I told her that I'll be at the press conference, she came to cheer me on," Ma Dong Seok shared.
During Angelina Jolie's segment, she had nothing but respect and kind words for Ma Dong Seok!
"My time with Ma Dong Suk feels like a dream. I was a fan of his, but I was blown away while doing action scenes with him," Angelina Jolie expressed.
"Ma Dong Suk responded by giving his thanks to Angelina Jolie for coming to see him even though it's very difficult, whole-heartedly telling the actress that she is a loyal friend."
© 2022 Korea Portal, All rights reserved. Do not reproduce without permission.
Tags:
Angelina Jolie
,
Angelina Jolie news
,
Angelina Jolie updates
,
Angelina Jolie and Don Lee
,
Don Lee and Angelina Jolie
,
don lee
,
Don Lee news
,
Don Lee updates
,
Ma Dong Seok and Angelina Jolie
,
Angelina Jolie and Ma Dong Seok
,
Ma Dong Seok
,
ma dong seok news
,
ma dong seok updates
,
kwave
,
kwave news
,
kwave updates
,
Marvel
,
Marvel News
,
Marvel updates
,
Marvel Cinematic Universe
,
Marvel Cinematic Universe news
,
Marvel Cinematic Universe updates
,
mcu
,
MCU news
,
MCU updates
,
Marvel Eternals
,
MCU Eternals
,
Eternals
,
Eternals news
,
Eternals updates
,
Eternals film
,
Eternals movie