The Members Of TWICE Reveal That 'The Feels' Is Their Most Difficult Comeback Yet!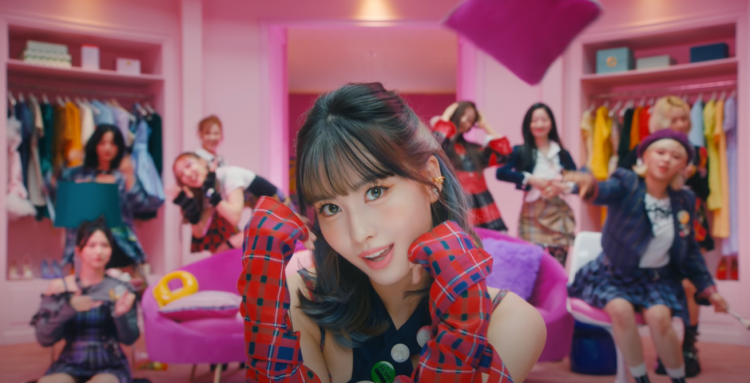 ONCEs totally love TWICE's first ever full English language single entitled "The Feels"! But as per the TWICE members, their new track has been the most difficult comeback they have conjured up so far.
In TWICE's first-ever interview with a major press from India, the members of TWICE explained the difficult process behind making their new song "The Feels"!
Sana revealed that the members of TWICE were under pressure due to the difference in time "The Feels" had compared to the other comebacks of TWICE.
"For this single, specifically, we had a very short period of time compared to other albums to put everything together, from the recording process to the choreography practicing. Since we knew that we only had a limited amount of time, we put in extra effort to prepare for this comeback and amaze our fans," TWICE's Sana explained.
Beyond this, TWICE also had to sing in a language the girl group has not mastered yet. As per Sana, she alongside her other members had online meetings with TWICE's team in the US who helped them with pronunciations.
But TWICE's Momo expressed that she believes she had the most difficulty among the other members!
"As per TWICE's Momo, she compared "The Feels" to their Korean or Japanese songs and she concluded that the recording process was more difficult. "However, I practiced hard day and night with our members to deliver the best result for our fans," Momo added.
Even though Momo is more nervous about this comeback than usual, she revealed she feels safe because "I know that ONCE will always have our back, so I feel very supported."
Furthermore, as per TWICE's Mina, TWICE's "The Feels" was also difficult to pull-off as the prom concept was something the members are not familiar with.
"Because prom is a culture that we have not experienced before, we were excited to try on this new concept and achieve our dream of attending a prom as a student. I hope ONCEs enjoy this fun and bubbly concept," Mina noted.
But regardless, "The Feels" is highly loved by ONCEs and TWICE surely did an amazing job with their first all English release!
© 2023 Korea Portal, All rights reserved. Do not reproduce without permission.
Tags:
kwave
,
kwave news
,
kwave updates
,
Kpop
,
kpop news
,
Kpop updates
,
JYP
,
JYP artists
,
JYP Entertainment
,
JYP Entertainment artists
,
JYP Entertainment news
,
JYP Entertainment updates
,
JYP Entertainment TWICE
,
JYP Entertainment TWICE The Feels
,
TWICE
,
TWICE news
,
TWICE Updates
,
TWICE The Feels
,
The Feels
,
The Feels news
,
The Feels updates
,
TWICE Sana
,
TWICE Sana news
,
TWICE Sana updates
,
TWICE Momo
,
TWICE Momo news
,
TWICE Momo updates
,
TWICE Mina
,
TWICE Mina news
,
TWICE Mina updates
,
Sana
,
Sana news
,
Sana updates
,
Momo
,
Momo news
,
Momo updates
,
Mina
,
Mina news
,
Mina updates
,
The Feels MV
,
The Feels music video