Netizens Gifted With Superstar Song Cover By BLACKPINK's Rosé, AKMU's Lee Suhyun, & SHINee's Onew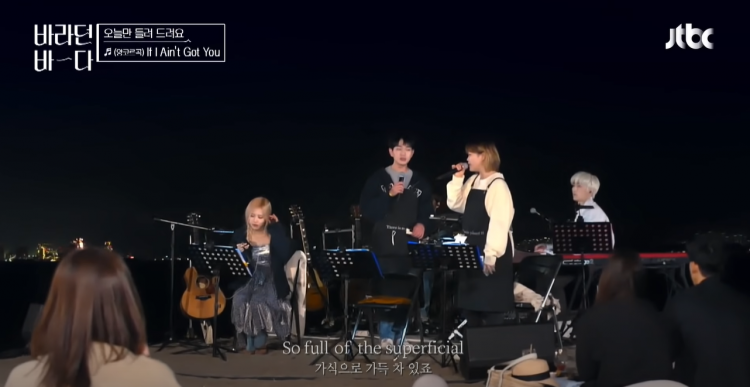 Not long ago, BLACKPINK's Rosé did a cover of "Slow Dancing in a Burning Room" by John Mayer alongside Lee Suhyun, Yoon Jong Shin, and SHINee's Onew on JTBC's "Sea of Hope."
Not long after this, John Mayer himself caught wind of Rosé's cover, giving the BLACKPINK singer a guitar as a gift. Ahead of this, the BLACKPINK main vocalist once again made headlines as Rosé shed tears while performing "Because I Love You" by Yoo Jae Ha.
Recently, BLACKPINK Rosé once again caught the attention of netizens as she did another cover of two popular songs alongside SHINee's Onew and AKMU's Lee Suhyun on "Sea of Hope"!
JTBC's "Sea of Hope" is a new variety show that has been garnering a lot of attention. On the show, celebrities have musical performances and prepare homemade dishes for the guests at the designated seaside bar.
"Sea of Hope" has an amazing cast headlined by Lee Dong Wook, Kim Go Eun, Lee Ji Ah, Onew, Lee Suhyun, and Yoon Jong Shin. To add to their star-studded cast, BLACKPINK's Rosé has been showing up as a special guest, also dubbed as a "part-timer."
Just recently, on the 27th of July, the episode of "Sea of Hope" has Rosé and Onew do an amazing cover as they crushed "Lucky," a hit 2009 song which was originally sung by Jason Mraz and Colbie Caillat.
In the episode, BLACKPINK's Rosé gave praise towards SHINee's Onew's vocals. Rosé noted, "I think Onew's vocal tone is really incredible. His vocals are like honey. He has such a pretty tone."
For the reason why the duo chose Jason Mraz and Colbie Caillat's "Lucky," Rosé revealed, "This is a song I listened to a lot on the radio back when I was in school, and I chose it because I thought it was a song that was well-suited to the night sea."
To add to this, netizens and guests were once again gifted by another amazing serenade as BLACKPINK's Rosé and SHINee's Onew added AKMU's Lee Suhyun to perform "If I Ain't Got You," by Alicia Keys.
© 2023 Korea Portal, All rights reserved. Do not reproduce without permission.
Tags:
JTBC
,
JTBC News
,
JTBC Updates
,
JTBC variety show
,
JTBC Sea of Hope
,
Sea of Hope
,
Sea of Hope news
,
Sea of Hope updates
,
BLACKPINK Rosé Sea of Hope
,
AKMU Lee Suhyun Sea of Hope
,
SHINee Onew Sea of Hope
,
Rosé Sea of Hope
,
Onew Sea of Hope
,
Lee Suhyun Sea of Hope
,
kwave
,
kwave news
,
kwave updates
,
Kpop
,
kpop news
,
Kpop updates
,
YG
,
YG artists
,
YG Entertainment
,
YG Entertainment artists
,
YG Entertainment news
,
YG Entertainment updates
,
YG Entertainment BLACKPINK
,
YG Entertainment BLACKPINK Rosé
,
YG Entertainment AKMU
,
YG Entertainment AKMU Lee Suhyun
,
SM
,
SM artists
,
SM Entertainment
,
SM Entertainment artists
,
SM Entertainment news
,
SM Entertainment update
,
SM Entertainment updates
,
SM Entertainment SHINee
,
SM Entertainment SHINee Onew
,
SHINee Onew
,
blackpink rose
,
BLACKPINK Rosé news
,
BLACKPINK Rosé updates
,
Rose
,
Rose news
,
Rose updates
,
AKMU Lee Suhyun
,
AKMU Lee Suhyun news
,
AKMU Lee Suhyun updates
,
Lee Suhyun
,
Lee Suhyun news
,
Lee Suhyun updates
,
SHINee Onew news
,
SHINee Onew updates
,
Onew
,
Onew news
,
Onew updates
,
Lucky
,
If I Aint Got You
,
Jason Mraz
,
Colbie Caillat
,
Alicia Keys