BLACKPINK's Rosé Caught The Attention Of John Mayer For The Most Amazing Reason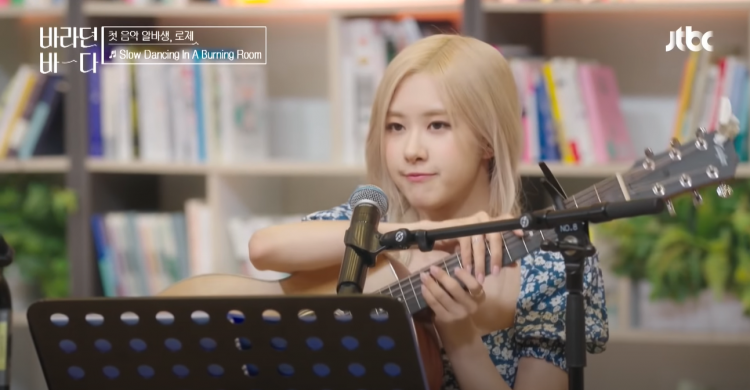 BLACKPINK's Rosé is currently regarded as one of the best main vocalists of her generation. With her adorable accent mixed with her smooth and silky voice, almost every song she sings is a true wonder to behold.
The K-pop industry is filled with incredibly popular vocalists and YG Entertainment's BLACKPINK's Rosé truly sits on one of the top-ranking singers. But the BLACKPINK main vocalist is not just amazing with Korean songs, but with English songs as well.
This has been evident as BLACKPINK's Rosé has a lot of English lines in BLACKPINK songs and Rosé is also known to do amazing covers of songs that would even rival the original artists who sang the tracks in the first place.
Like in most careers tracks, when an individual filled with talent comes along, it is only normal for other artists to praise their works. This was recently proved as John Mayer himself commended BLACKPINK's Rosé for her rendition of his hit song.
John Mayer, an immensely popular US singer, is credited for "Slow Dancing in a Burning Room" as this is one of his most popular songs. Due to its popularity, BLACKPINK's Rosé decided to do her own rendition and John Mayer himself was lost for words.
As of writing this article, on the 29th of June, JTBC's latest variety show "Sea of Hope," dropped its premiere episode and BLACKPINK's Rosé was featured as the new show's very first guest.
Not long after, as the show progressed, BLACKPINK's Rosé went on to perform a live cover of John Mayer's "Slow Dancing in a Burning Room." Rosé did this alongside SHINee's Onew, AKMU's Lee Suhyun, and Yoon Jong Shin.
A day after, John Mayer went on his personal Twitter account and gave credit to the BLACKPINK member. Noting, "This is gorgeous @ygofficialblink #rosÉ."
I guess 'real recognizes real' is truly prevalent in the music industry as BLACKPINK's Rosé was inherently praised by John Mayer.
© 2023 Korea Portal, All rights reserved. Do not reproduce without permission.
Tags:
JTBC
,
JTBC News
,
JTBC Updates
,
JTBC New Show
,
JTBC variety show
,
JTBC Sea of Hope
,
JTBC Sea of Hope BLACKPINK's Rosé
,
BLACKPINK's Rosé JTBC Sea of Hope
,
Sea of Hope
,
BLACKPINK Rosé Sea of Hope
,
Sea of Hope BLACKPINK Rosé
,
Sea of Hope Rosé
,
Rosé Sea of Hope
,
kwave
,
kwave news
,
kwave updates
,
Kpop
,
kpop news
,
Kpop updates
,
YG
,
YG artists
,
YG Entertainment
,
YG Entertainment news
,
YG Entertainment updates
,
YG Entertainment BLACKPINK
,
YG Entertainment BLACKPINK news
,
YG Entertainment BLACKPINK updates
,
BLACKPINK
,
Blackpink news
,
Blackpink updates
,
blackpink rose
,
BLACKPINK Rosé news
,
BLACKPINK Rosé updates
,
Rose
,
Rose news
,
Rose updates
,
John Mayer
,
Slow Dancing in a Burning Room