Hyeri Crying Nonstop On Last Filming Day Of 'My Roommate Is A Gumiho'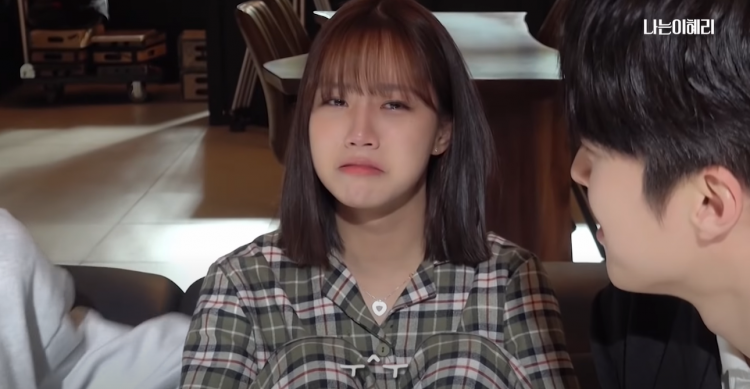 "My Roommate Is A Gumiho," tvN's popular K-drama starring Girl's Day's Hyeri recently concluded, to the sadness of viewers and actors alike.
Hyeri herself noted that the K-drama is very near and dear to her heart. Thus, on the final day of shooting, Hyeri uploaded a vlog on her YouTube channel. The clip showed a behind-the-scenes perspective on Hyeri's last day of filming and the actress could not stop crying.
The vlog started with Hyeri being given makeup for her last film scene. This, the actress began crying due to the emotions. To her makeup artist's surprise, Hyeri's tears were uncontrollable. Thus, like a good makeup artist, she tried to cheer the actress up.
Hyeri's makeup artist commented, "No! No! What? What happened? Who did this to you?"
After her makeup, Hyeri went on to film her final scene. At the end of the shooting, Hyeri's tears once again started flowing. Seeing this, Jang Ki Yong (Hyeri's co-star) went over to console the actress.
Although the staff and actors of "My Roommate Is A Gumiho" are immensely close, Jang Ki Yong's efforts to make Hyeri stop crying were futile. Thus, Jang Ki Yong made a joke remarking, which made Hyeri smile.
"Why are you crying so much?", Jang Ki Yong asked Hyeri, jokingly.
Hyeri responded, "This is actually not that bad, right?" I think I held it in pretty well..."
"You said you weren't going to cry!", the staff adorably remarked.
After the interaction, Hyeri let all her tears loose, noting, "Honestly, I almost started crying when I was at the shop (makeup/hair) but I..."
Aside from being sad due to bidding farewell to the staff, Hyeri also became sad because she was saying goodbye to her character, Lee Dam.
To further lighten the mood, Jang Ki Yong continued making jokes by saying, "You cry and then you laugh..."
"Because I'm happy that I was able to hold it this long. I'm proud of myself," Hyeri responded.
Hyeri's performance on tvN's "My Roommate Is A Gumiho" will always be iconic and will be remembered as one of her best roles. The future is bright for the actress' career.
© 2022 Korea Portal, All rights reserved. Do not reproduce without permission.
Tags:
kwave
,
kwave news
,
kwave updates
,
Kdrama
,
kdrama news
,
kdrama updates
,
Girls Day's Hyeri
,
Girls Day's Hyeri news
,
Girls Day's Hyeri updates
,
Hyeri
,
Hyeri news
,
Hyeri updates
,
TvN
,
tvN news
,
tvN updates
,
tvN My Roommate Is A Gumiho
,
my roommate is a gumiho
,
My Roommate Is A Gumiho news
,
My Roommate Is A Gumiho updates
,
My Roommate Is A Gumiho Hyeri
,
Hyeri My Roommate Is A Gumiho
,
Hyeri kdrama
,
kdrama Hyeri