ITZY's Chaeryeong Hilariously Showed Her Savage Once Again, This Time Towards ITZY's Yeji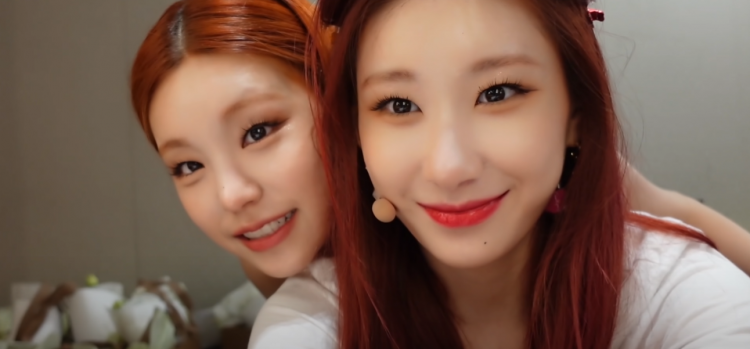 Just this June, JYP Entertainment's ITZY had new room assignments and Yeji and Chaeryeong and Yeji ended up becoming roommates. But it seems as though ITZY's Chaeryeong preferred to have her own room like before.
Fans found it hilarious when in a recent ITZY video entitled "ITZY '마.피.아. In the morning' BEHIND #3", ITZY's leader, Yeji, asked Chaeryeong how she feels about being roommates with her.
ITZY's Yeji asked, "How do you feel about having me as a roommate? I want to listen to this."
To Yeji's surprise, ITZY's Chaeryeong immediately answered that it was nothing special. Beyond this, Chaeryeong went to share a secret about Yeji as her roommate. "Nothing special. She actually does not clean up."
Defending herself, ITZY's Yeji went on to share that she has no time to clean up due to their busy schedules.
"Actually, we are busy during our promotions, right? You have to sleep, obviously. It is you who is actually not sleeping that much," ITZY's Yeji replied in her defense.
ITZY's Chaeryeong went on to share how she missed having a room to herself.
"I think having a room to myself was good. I try hard to stay in good condition. I think it's important, so when there's a schedule early in the morning the next day, I try to go to sleep very early. I turn off the lights as early as I can. That's why having a room to yourself is nice," ITZY's Chaeryeong explained.
Not wanting to give up, ITZY's leader continued to ask Chaeryeong why she enjoys sharing a room with her. ITZY's Yeji inquired, "What is the advantage of sharing a room with me?"
To everyone's delight and laughter, Chaeryeong repliedm "The advantage? There is none. I am going to search for bed curtains and bed shades."
To save herself, ITZY's Yeji went on to think of the advantages of having herself as a roommate.
"The advantage is that it isn't lonely anymore. Being together is nice. It's less scary, actually. These could be the advantages," ITZY's Yeji added.
© 2022 Korea Portal, All rights reserved. Do not reproduce without permission.
Tags:
kwave
,
kwave news
,
kwave updates
,
Kpop
,
kpop news
,
Kpop updates
,
JYP
,
JYP artists
,
JYP Entertainment
,
JYP Entertainment artists
,
JYP Entertainment ITZY
,
JYP Entertainment ITZY news
,
JYP Entertainment ITZY updates
,
JYP Entertainment ITZY video
,
ITZY
,
ITZY News
,
ITZY updates
,
ITZY Yeji
,
ITZY Chaeryeong
,
ITZY Yeji news
,
ITZY Yeji updates
,
ITZY Chaeryeong news
,
ITZY Chaeryeong updates
,
ITZY Yeji and Chaeryeong
,
ITZY Chaeryeong and Yeji
,
Yeji and Chaeryeong
,
Chaeryeong and Yeji
,
yeji
,
Yeji news
,
Yeji updates
,
Chaeryeong
,
Chaeryeong news
,
Chaeryeong updates
,
ITZY roommates