Love For Wendy, Her Solo Album, & More, Red Velvet's Joy Talks About 'Hello'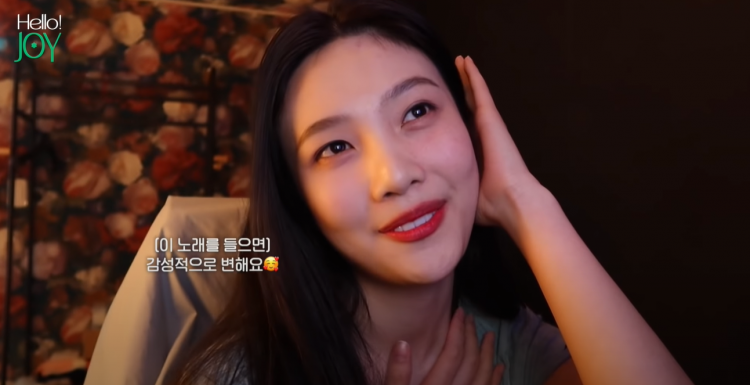 As of writing this article, 2 days ago on the 31st of May, Red Velvet's Joy went on to hold a virtual music listening session and press conference, signifying the release of her solo debut and album entitled "Hello."
Red Velvet's Joy noted that she has released OSTs before but the amount of nervousness she feels with her solo album is indescribable. She feels responsible for all the staff who worked with her to release her solo album.
Aside from that, Red Velvet's Joy went on to learn a lot from the experience.
Red Velvet's main vocalist, Wendy, went on to host Red Velvet's Joy's press conference since Joy previously hosted her press conference for her solo debut in March with her album, "Like Water."
Red Velvet's Joy went on to say that she thought about how Wendy probably went through similar difficulties when she released her solo album in March. Red Velvet's Wendy went on to send her multiple long messages, which gave Joy strength for her solo debut.
Red Velvet's Joy's solo album is a unique debut as it is a remake album full of hit songs from the '90s and 2000s.
Due to this, Red Velvet's Joy went on to listen to a lot of tracks while choosing music for her solo album. For joy, tracks from the '90s and 2000s give her a sense of healing, even wanting to be born earlier so she could listen and enjoy the songs in an earlier time.
Red Velvet's Joy emphasized, "I want to really thank the senior artists who allowed me to remake their tracks. Even if I wanted to sing their songs, copyright issues would make it complicated. All of the tracks are just so amazing, I did not want to mess up the emotional aura of the original. But, I did try to show my own voice and emotions inside the songs."
To add to that, Red velvet's Joy shared that people her age might not know a lot of tracks from the '90s and 2000s, but she practiced with the aforementioned songs while she was a trainee.
Red Velvet's Joy concluded by saying that when Lee Soo Man noted that he wanted her to sing songs that both mothers and children could relate to, Red Velvet's thought that the songs from the 2000s would be a perfect fit.
© 2023 Korea Portal, All rights reserved. Do not reproduce without permission.
Tags:
virtual music listening session and press conference
,
Red Velvet Joy virtual music listening session and press conference
,
Joy virtual music listening session and press conference
,
kwave
,
kwave news
,
kwave updates
,
Kpop
,
kpop news
,
Kpop update
,
kpop udpates
,
SM
,
SM artists
,
SM Entertainment
,
SM Entertainment artists
,
SM Entertainment news
,
SM Entertainment update
,
SM Entertainment updates
,
SM Entertainment Red Velvet
,
Red Velvet
,
Red Velvet News
,
Red Velvet Updates
,
Red Velvet Joy
,
Red Velvet Joy news
,
Red Velvet Joy updates
,
Joy
,
Joy news
,
Joy updates
,
Red Velvet solo
,
Red Velvet solo debut
,
Red Velvet Joy solo
,
red velvet joy solo debut
,
Joy solo
,
Joy solo debut
,
Red Velvet Joy Hello
,
Hello
,
Joy Hello
,
Red Velvet Wendy
,
Wendy