Trainees From 'Youth With You 3' Received A Special Gift From BLACKPINK's Lisa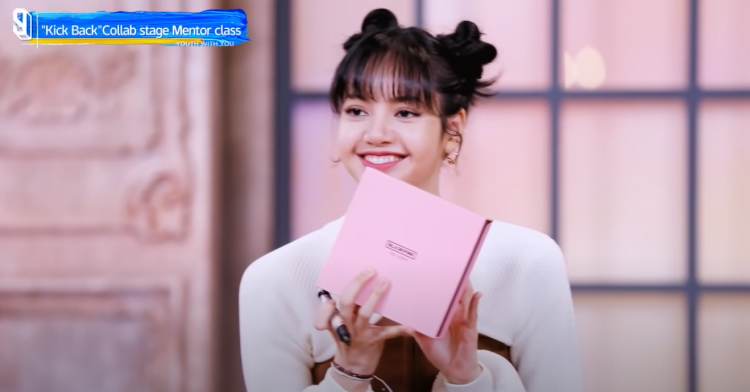 BLACKPINK's Lisa is one of the most well-known idols to date. Due to her popularity, Lisa is arguably a household in South Korea and possibly the whole world. Aside from being a gifted dancer and a skilled rapper, she is also a very good teacher.
Evident in Lisa's stint as being a mentor in "Youth With you 3."
As a mentor, BLACKPINK's Lisa is not just a teacher, but a friend as well to her trainees. Not only does she give advice on dancing, but she also encourages her trainees to do their best. Due to this, the trainees are usually hardworking.
Recently, BLACKPINK's Lisa decided to give a special gift to the "Youth With You 3" trainees, and they reacted in a very adorable way.
As mentioned above, BLACKPINK's Lisa is a mentor in "Youth With You 3," and in a recent episode, she performed the mentor collaboration stage with her chosen group of five trainees. Not only do her trainees see her as an amazing dance instructor whom they can approach anytime for advice, but Lisa is also their favorite K-pop idol.
Lian Huaiwei, a trainee under Lisa's team, tried his luck with BLACKPINK's Lisa as he asked for a signed copy of BLACKPINK's recent album. To their surprise, BLACKPINK's Lisa immediately agreed to give each of them a copy for as long as they worked hard.
BLACKPINK's Lisa asked the trainees if her signature alone was enough, and hilariously, Huaiwei asked for Jennie's signature as well.
After a couple of days, the trainees were in shock when Lisa actually gave them each a signed copy of BLACKPINK's "The Album."
The "Youth With You 3" trainees were so overjoyed at the sight of Lisa signing the album. To further encourage the trainees, Lisa said, "Here's my signature. I gotta ask my members to do it."
During the day of the collaboration stage, Lisa's "Kick Back" team was given their signed albums, and the other trainees only looked on with jealousy.
If BLACKPINK's Lisa gave you a signed copy of "The Album," what would you do?
© 2022 Korea Portal, All rights reserved. Do not reproduce without permission.
Tags:
IQIYI
,
Lisa mentor IQIYI
,
IQIYI Lisa
,
IQIYI Youth With You 3
,
Youth With You 3
,
BLACKPINK Lisa Youth With You
,
Youth With You 3 Mentor Lisa
,
Lisa Youth With You 3
,
kwave
,
kwave news
,
kwave updates
,
Kpop
,
kpop news
,
Kpop updates
,
YG
,
YG artists
,
YG Entertainment
,
YG Entertainment BLACKPINK
,
BLACKPINK
,
Blackpink news
,
Blackpink updates
,
blackpink lisa
,
Lisa
,
Lalisa Manoban
,
Lisa news
,
Lisa updates