S. Korea, US Set North's Denuclearization As 'Top Priority'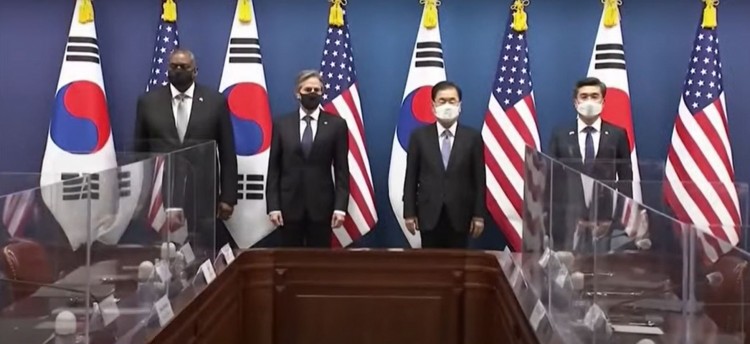 South Korea and the United States said that the alliance's "top priority" is to address the nuclear and ballistic missile issues of North Korea, while Washington continues to pressure Beijing in using its influence to help in convincing the North to denuclearize.
Both nations issued the joint statement, which details the pledge, after the "two-plus-two" meeting at the Foreign Ministry in Seoul. The talks include Chung Eui-yong, South Korea's Foreign Minister and Suh Wook, Defense Minister and US top officials Antony Blinken, US Secretary of State, and Lloyd Austin, Secretary of Defense.
The government officials had also vowed close coordination on all the issues that are surrounding the Korean Peninsula and uphold high-level consultation on the ongoing policy review of the US to North Korea that Secretary Blinken said that would be competed in the following weeks.
The officials stressed that the United States considers both pressuring the North and diplomatic options in the continuing policy review.
Despite condemning the assertiveness of China as the primary focus of the Asian trip of the US officials, the US State Secretary admits that Beijing plays a "critical role" in convincing Pyongyang to stop its nuclear program as it has a "unique relationship" and a huge influence on the North.
While the United States officials had been aiming at Beijing during their talks, China was not mentioned during the joint statement made by the two countries. Unlike the similar statement that was issued by Tokyo and Washington on Tuesday where they condemned the behavior of China being misaligned with existing international order and a threat to the peace and security of the region.
According to experts, the difference in the tone was due to Seoul's hesitance to join Washington in China-bashing as Beijing had been Seoul's key economic partner and it fears to anger the country.
© 2022 Korea Portal, All rights reserved. Do not reproduce without permission.