Cast Of Highly Anticipated K-Drama 'Vincenzo' Discuss Their Roles And More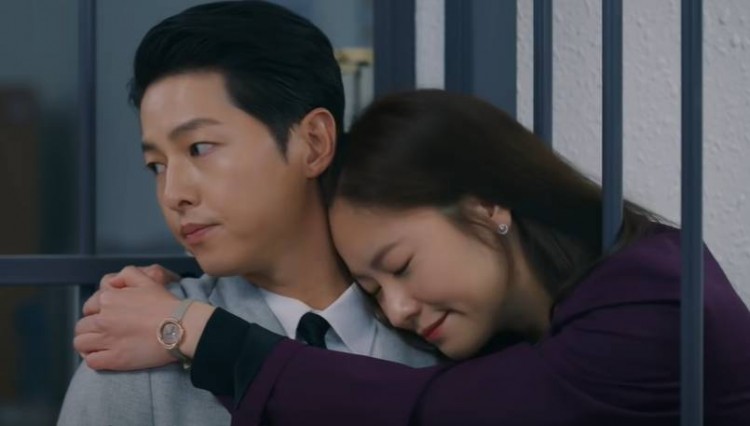 The premiere of "Vincenzo" is less than a week away, being on February 20. Since the premiere of the much awaited K-drama draws closer, an online press conference with cast members Song Joong Ki, Jeon Yeo Bin, and 2PM's Taecyeon and producing director (PD) Kim Hee Won was held last Monday, February 15.
"Vincenzo" has three main characters, Vincenzo Cassano (Song Joong Ki), Hong Cha Young (Jeon Yeo Bin), and Jang Joon Woo (2PM's Taecyeon). Vincenzo is a Mafia lawyer and consigliere who serves under the Italian mafia, Hong Cha Young is another lawyer with a brash tongue, and Jang Joon Woo is Cha Young's budding intern.
When asked about how they felt about their roles, the three main "Vincenzo" cast had a lot of things to say.
2PM's Taecyeon responded by saying, "When I first learned about the project called 'Vincenzo,' it felt very fresh to me. It was a story I'd never encountered before, and I was curious about what direction it would go. My character Joon Woo has eyes only for Cha Young, but he has his own path of growth." Taecyeon also mentioned that he did his best to physically portray someone who was just beginning in their career to make his character more fleshed out.
Jeon Yeo Bin said that she was curious about how her character would come to life. Her character was a big challenge for her but with the help of her seniors, Yeo Bin, along with her character, also became more well-rounded. Yewo Bin also expressed that she wanted to be more known in public, so she hopes this role will further elevate her career.
When asked about his character, Song Joong Ki (Vincenzo himself) said that he thinks Vincenzo is a relatable character not just for him but for all sorts of people. It has been common on the news about evil people in all aspects of life. So when he got the synopsis, there were a few lines about the writer's intentions that got his attention-primarily being that he'd never related so much to a writer's intentions before.
Kim Hee Won then added about Song Joong Ki's character, "My character is a character who feels set apart after living in Italy for so long. He returns to his motherland, Korea, and feels various emotions such as loneliness, sadness, but also relief."
The cast of high-anticipated "Vincenzo" truly have their work cut out for them. But their responses show that they are willing and more than ready to take on the challenge (and succeed) with their respective roles.
In case you haven't seen it yet, click here to see Vincenzo's trailer.
© 2023 Korea Portal, All rights reserved. Do not reproduce without permission.