'Arthdal Chronicles' Drops New Poster For K-Drama's Part 2 + Continues To Rank No. 1 In Most Buzzworthy Dramas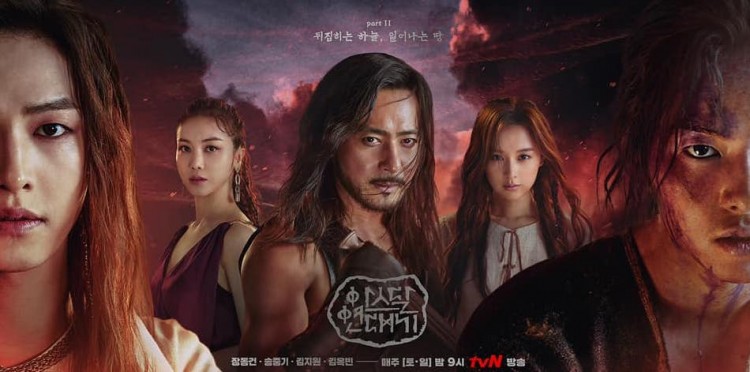 Korean TV network tvN has dropped a new poster for Arthdal Chronicles as the drama is about to kick off its second part this weekend. The new poster features it main cast members Song Joong Ki, Jang Dong Gun, Kim Ji Won, and Kim Ok Bin.
The new poster suggests more drama is about to unfold in the upcoming Part 2 of the series as it features a new character, Eun Seom's twin brother Sa Ya. Song Joong Ki is seen on both sides of the poster but playing contrasting characters. The poster strongly shows the striking difference in the personalities of Eun Seom and Sa Ya.
At the end of Part 1, titled "Children of the Prophecy," it was revealed that Eun Seom (Song Joong Ki) has a twin brother Sa Ya (also played by Song). He is the neanderthal child that Ta Gon (Jang Dong Gun) asked his lover, Taeilha (Kim Ok Bin), to secretly raised. Additionally, it was revealed in the recent episode that Ta Gon is half human, half neanderthal himself like Eun Seom.
Arthdal Chronicles tells the stories of love, conflict, and harmony between the heroes who create their own legends in the ancient land of Arth. It was earlier announced that the drama will be told in three parts and it is divided according to the different periods in the story.
The second part is titled "The Sky Turning Inside Out, Rising Land." It will focus on different characters and deeper plot particularly on the mysterious identities of Eun Seom, Sa Ya, and Ta Gon. The last part, titled "Arth, The Prelude to All Legends," is where the turning point of the main characters will unfold.
Arthdal Chronicles airs on Saturday and Sunday at 9 p.m. KST on tvN. Brand new episodes will air on June 22 and 23. The K-drama is also available via Netflix.
Meanwhile, Arthdal Chronicles continues to hold the No. 1 spot on the list of most buzzworthy Korean dramas. This is the third week Song Joong Ki's drama has been on the top spot.
Apparently, the revelation of Eun Seom's twin brother over the weekend created more buzz for the drama. The news that BLACKPINK member Jisoo and 2PM's Nichkhun would appear in Arthdal Chronicles also added to the hype of the drama.
© 2021 Korea Portal, All rights reserved. Do not reproduce without permission.