'Arthdal Chronicles' To Premiere On June 1; Everything To Know About Song Joong Ki's New K-Drama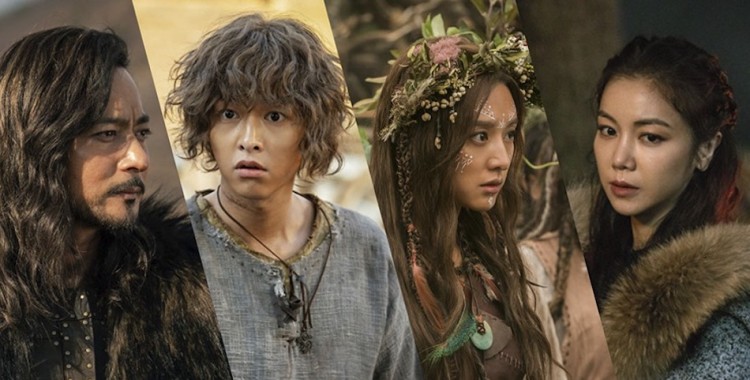 The highly anticipated K-drama of the year, Arthdal Chronicles, is about to hit the small screen on June 1. Here's everything to know about Song Joong Ki's new TV series.
Cast
Arthdal Chronicles is lead by A Werewolf Boy actor Song Joong Ki, Suits actor Jang Dong Gun, Fight My Way actress Kim Ji Won, and The Villainess star Kim Ok Bin. This is Song's comeback in TV series after his mega-hit K-drama Descendants of The Sun along with his now wife, Song Hye Kyo and co-star Kim Ji Won.
Song Joong Ki plays the role of Eun Seom, a soft-hearted but brave child of a human mother and a Neanderthal. He lives amongst the members of the Wahan tribe and fights to save them from their enemies. He will later become the conqueror of Arthdal.
Jang Dong Gun takes the role of Ta Gon, a warrior and the son of Saenyeok tribe leader. He is worshiped by his people as he leads them to battle to overtake tribes. He is charismatic and talented but also dangerous.
Kim Ji Won portrays the role Tan Ya, a shaman and a descendant of the Wahan clan mother. She is destined to lead and protect her own people.
Kim Ok Bin, on the other hand, plays Tae Al Ha, the most beautiful woman in Asadal. She has the strongest desire for power. The lives of the four main characters become tangled up in a fight for power and desire to protect their people.
Plot
This period drama tells the stories of love, conflict, and harmony between the heroes who create legends in a mythical city. Arthdal Chronicles will be told in three parts and it is divided according to the different periods in the story.
The first part is titled, "The Children of Prophecy" while the second part is "The Sky Turning Inside Out, Rising Land." The last part is "Arth, The Prelude to All Legends" in which the turning point of the main characters will unfold.
Where To Watch
Arthdal Chronicles is set to premieres on June 1 at 9 p.m. KST on tvN after the conclusion of Confession. The network earlier released a full interview to the lead cast members as well as some behind-the-scenes footage ahead of the series premiere.
Netflix also earlier announced that it will be releasing Arthdal Chronicles globally. The streaming giant has yet to reveal the global premiere date for Arthdal Chronicles but it is expected that it will air almost simultaneously with tvN.
© 2019 Korea Portal, All rights reserved. Do not reproduce without permission.