Starz Puts Out 'Outlander' Stars Caitriona Balfe, Sam Heughan, and 3 More For Nomination Considerations In 2019 Emmys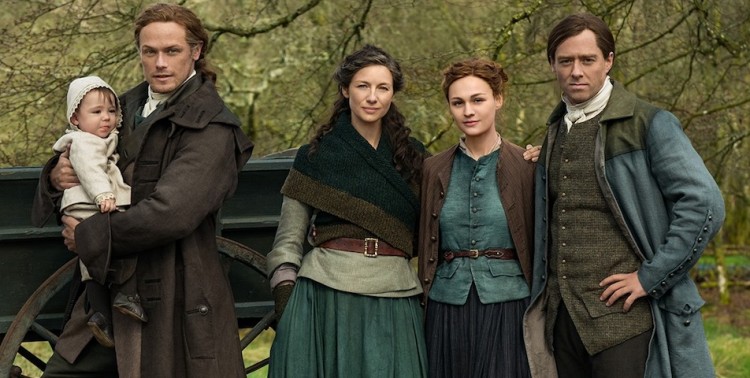 Starz has officially submitted the name of five stars from its critically-acclaimed TV series Outlander for consideration for the 2019 Emmy Awards. The Outlander for consideration list is headed by lead stars Caitriona Balfe and Sam Heughan.
The network submitted Balfe (Claire Fraser) for consideration for the Best Actress in a Drama Series category while Heughan (Jamie Fraser) is for the Best Actor category. Starz also believes that Sophie Skelton's acting is worthy to be recognized in the Drama Supporting Actress category and Richard Rankin for the Best Supporting Actor.
Veteran actress Maria Doyle Kennedy, who plays the role of Jamie Fraser's Aunt Jacosta, is also up for Emmy consideration for Drama Guest Actress. Overall, Outlander is up for six nomination considerations as the series itself is also submitted for Best Drama category.
The Emmys 2019 nominations will be announced on July 16 while the awards night is expected to air in September. Fans of Outlander are hoping that the performance of the series' actors will not be overlooked once again. In the past years, the series and its stars continue to be a dark horse in the Primetime Emmy Awards.
Over the years, fan-favorite Outlander has only received four Emmy nominations for its production staff but none for its stars. It was nominated for Best Music Composition for Bear McCreary in 2015, Best Production Design and Best Period Costumes in 2016, and Best Period/Fantasy Costumes last year.
Last year, Starz submitted Caitriona Balfe and Sam Heughan for consideration, two episodes on the writing ballot, and one on the directing category. Unfortunately, ther 2018 Emmy voters gave thumbs down to all of these Outlander entries. The series only received one nod last year and that was for Best Costumes category.
In comparison, the time-traveled theme series earned three Golden Globe noms in 2016: Best Drama Series, Best Drama Actress for Balfe and Best Supporting Actor for Tobias Menzies. Additionally, Balfe also got nominations from 2017 up to this year. She has already received two People's Choice Awards and also a couple of recognitions from the Saturn Awards.
Outlander Season 5 is currently filming in Scotland. The series earlier released a video to mark the start of its production. The clip features the main characters of the series back in Fraser Ridge. The fifth installment is expected to premiere in the fall.
© 2023 Korea Portal, All rights reserved. Do not reproduce without permission.