10 Best K-Dramas That Should Be On Newbies' Must-Watch List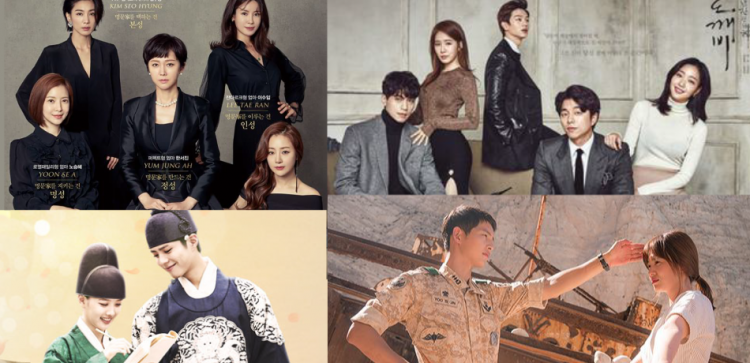 The world of Korean TV drama can be daunting to some because of too many great options to choose from. To make it easier for newbies to K-dramas like you, here are 10 of the best K-dramas to start with.
1. SKY Castle
This may come a bit heavy for those who are new on K-dramas because of its plotline but it is worth the try. SKY Castle currently holds the record of the highest-rated drama in Korean cable television history.
It is a black comedy-drama about rich husbands and wives who are living in a luxurious residential area called Sky Castle. These couples are also obsessed on trying to get their kids into the top colleges in South Korea.
2. Descendants of The Sun
This mega-hit romance drama is about the love story of a female doctor and a special forces unit captain. Dr. Kang Mo Yeon (Song Hye Kyo) and Captain Yoo Si Jin (Song Joong Ki) began dating but due to their jobs, they realize how different they are to each other. Eight months later, Mo Yeon is assigned to lead a medical team in Uruk when she meet Shi Jin once again.
3. Love In The Moonlight
This light historical drama touches the heart of many viewers and left a mark that is commonly referred to as the "Moonlight Syndrome." It tells the story of Crown Prince Yi Yeong (Park Bo Gum) who falls deeply in love with a girl, Hong Ra On (Kim Yoo Jung), who disguises as a eunuch. The two face different challenges while protecting their secret relationship and the throne.
4. Prison Playbook
This K-drama feature a heartwarming friendships inside a jail. Prison Playbook tells the story about a baseball player (Park Hae Soo) who is sentenced to jail. The series features the touching stories of the characters and how they ended up in prison.
5. Goblin
This is one of Gong Yoo's best K-dramas to date. Goblin, also known as Guardian: The Lonely and Great God, is a fantasy drama about a modern-day goblin (Gong Yoo) who needs a human bride to end his cursed immortal life. When he finally found his bride, Ji Eun Tak (Kim Go Eun), he realizes that he doesn´t want to end his life. The chemistry between the two lead stars was supplemented by the impressive performance of the supporting lead cast members.
6. Pinocchio
This Lee Jong Suk and Park Shin Hye-led K-drama is about a man who was terribly wronged by a reporter. He plans his revenge but suddenly develops feelings for the daughter of his enemy. The girl has Pinocchio Syndrome which means every time she lies, she hiccups so she always needs to tell the truth.
7. Strong Girl Bong Soon
Do Bong Soon (Park Bo Young) inherited a trait that is common among the female members of her family: super strength. She wants to keep it secret so she can live a normal life but a CEO of a game company, Ahn Min Hyuk (Park Hyung Sik) witnesses her powers. Min Hyuk becomes attracted and intrigued by her. When he faces a threat to his life, so he decides to hire Do Bong Soon as his bodyguard.
8. The Heirs
It's a simple love story between a wealthy teen and a poor young girl yet it touches the heart of many viewers. Chaebol Kim Tan (Lee Min Ho) attends school in the U.S. where he meets Go Eun Sang (Park Shin Hye), who travels to America to look for her sister.
Despite being engaged to heiress Yoo Rachel (Kim Ji Won), Kim Tan falls in love with Eun Sang. When Kim Tan returns to Korea, his former BFF Choi Young Do (Kim Woo Bin) begins picking on Eun Sang. Tension ensues when Young Do also falls in love with Eun Sang, and Kim Tan is forced to choose between love and his responsibility with his family.
9. City Hunter
City Hunter is Lee Min Ho's character, Lee Yoon Sung, secret identity in this K-drama. Yoong Sun was trained by Lee Jin Pyo (Kim Sang Joong) who raised him to avenge the death of his biological father many years ago.
Yoon Sung is determine to carry out his mission until he falls in love with Presidential Security Service agent Kim Na Na (Park Min Young). He started to defy Jin Pyo's orders and carry out his revenge on his own way.
10. Kill Me, Heal Me
This K-drama has a complex storyline and acting performance from lead actor Ji Sung who portrayed seven different characters. His main character is a third-generation business heir who suffers from multiple personality disorder. He tries to regain control over his life with the help of first-year psychiatric resident, Oh Ri Jin (Hwang Jung Eum).
© 2023 Korea Portal, All rights reserved. Do not reproduce without permission.