'Kingdom' Season 2 Update: Netflix Drops First Glimpse Of Second Season Of Korean Zombie TV Series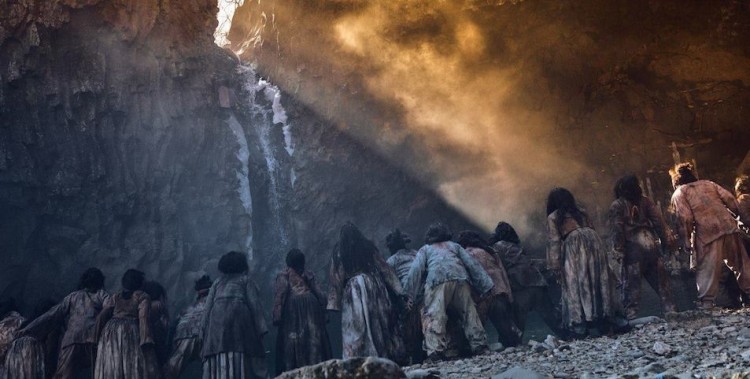 Netflix has finally shared a glimpse of what fans could expect in the upcoming Kingdom 2. The streaming giant posted two photos from the second installment of the Korean zombie apocalypse TV series.
The first image shows the drama hero, Prince Lee Chang (Joo Ji Hoon), drawing his sword and ready to defend his people from hundreds of violent zombies that are hungry for flesh. The second photo shows a pack of zombies who never fall asleep although the sun is shining on them.
Although it is not much, the photos are enough for fans to express their excitement about Season 2. Season 1 ended in a cliffhanger that left viewers guessing on what could happen next. Kingdom Season 2 will definitely pick up from the scary event in the previous season wherein the zombies rose from sleep when the sun rises which is contrary to the survivors' belief that they are afraid of sunlight.
Kingdom is set in the Joseon era. It tells the story of Crown Prince Lee Chang who went into a journey to look for an answer on the mysterious plague that overtook some provinces in the kingdom. The prince tries to stop the outbreak that is sweeping the nation and also infected his father.
Joo earlier teased that no one will be safe in Kingdom Season 2 even his character. He even compared it to Game of Thrones Season 1 where one of the main characters died. The Item actor said he first read the Season 2 script with co-star Ryu Seung Ryong during a flight to Singapore and he was shocked to learn on the story will go.
"I was so surprised I shouted, 'What? Really?'. There are no guarantees that my character is going to live to the end. In season one of Game of Thrones, the main character dies," Joo said.
On the other hand, Ryu hinted about more twists coming up in Season 2. The actor, who plays the role of power hungry and ruthless Minister Cho Hak Jo, admitted that he is quite worried about how the production will resolve everything in the end. Ryu also added that big things are about to happen to Minister Cho's daughter, Queen Cho Hak Ju (Kim Hye Jun) in the upcoming season.
Aside from Joo and Rye, original cast members Bae Doo Na (physician Seo Bi), Kim Sang Ho (Chang's personal guard Moo Young), and Kim Sung Gyu (mysterious man Yeong Shin) will also return in Season 2. The K-drama is directed by Kim Sung Hoon.
The production of the second season has begun last month. Netflix has yet to announce a release date for Kingdom Season 2. The pilot season was released earlier this year.
© 2023 Korea Portal, All rights reserved. Do not reproduce without permission.