'Touch Your Heart' Episode 3 Spoilers: Oh Jin Shim Clashes With Fellow Actress While Kwon Jung Rok Starts To Trust His Secretary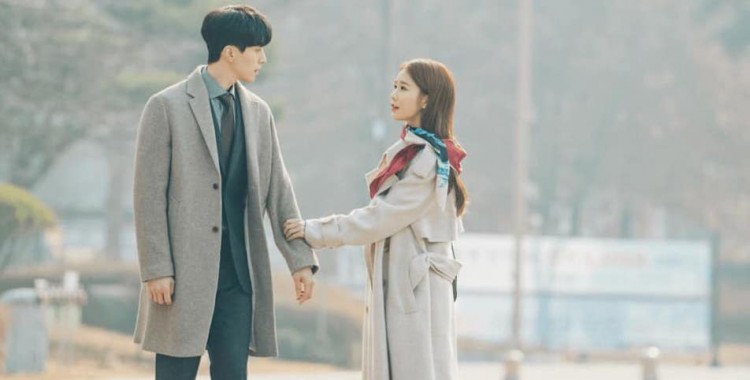 Oh Jin Shim and lawyer Kwon Jung Rok will continue to develop their working relationship in the upcoming Touch Your Heart Episode 3. However, it looks like Yoo Seo will have a problem in the with the world she lives in and that is being a celebrity.
In the previous episode, Jung Rok (Lee Dong Wook) and Jin Shim (In Yoo Na) have finally resolved their misunderstanding. He started to give her relevant tasks at the office and even invited the actress for a meal.
Jin Shim gladly accepts her boss' offer that they should all over again so she could work as a real secretary. The night ended with an accidental hug when Yoo Seo ran towards Jung Rok but lost her balance. Jung Rok did not dodge this time around and instead caught her and ended up hugging the actress.
Soompi quoted the producers of the series as saying that Jin Shim's hard work at the office will be seen in the next episode. She will help Jung Rok in his cases. In the process, the two will find something new about each other and a romance will blossom between them.
Meanwhile, in the photos that tvN released for Touch Your Heart, Jin Shim is seen having a fight with a fellow actress and agency mate. It seems like the actress is the one who supposed to get the role that Jin Shim has been preparing for.
Jim Shim's manager, Kong Hyuk Joon (Oh Eui Sik), cautiously puts a traffic cone on the actress' head to prevent people from recognizing her face. However, Jin Shim continues to grab the hair of her opponent while the people around them are taking pictures. The photos of the two clashing on the street will most likely end up on social media and might create another controversy for Jim Shim.
The production staff, meanwhile, praised Yoo In Na for her dedication to work as she shot the fight scene while wearing stilettos. The staff added that Yoo gave them a bright smile after filming even though her hair is all mess up and the traffic cone still on her head.
Touch Your Heart tells the romance that blooms between a perfectionist lawyer, Kwon Jung Rok (Lee), and Oh Jim Shim, a popular actress who is forced to work as secretary in a law firm to gain experience for a K-drama role she is about to portray. Touch Your Heart Episode 3 airs on February 13 at 9:30 p.m. KST on tvN.
© 2019 Korea Portal, All rights reserved. Do not reproduce without permission.