'Outlander' Season 4 Finale Spoilers: New Photos Reveal Tension Between Young Ian & The Mohawks; Sam Heughan Teases 'Strongest' Finale Ever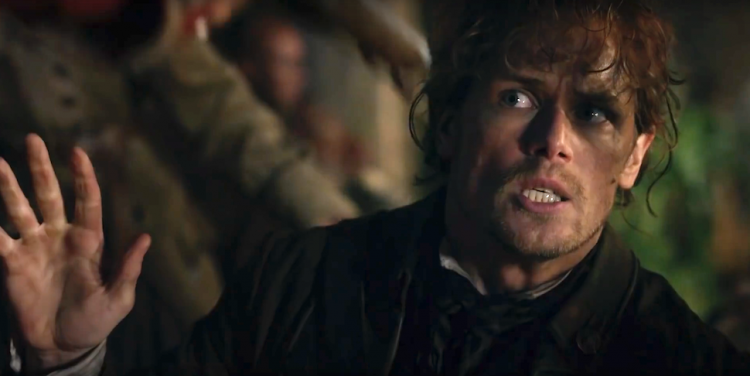 Getting back Roger from the Mohawks will never be easy for Jamie, Claire, and Young Ian. In the upcoming Outlander Season 4 finale, the trio will have a tense encounter with the Mohawks and it may change the life of one of them.
In the recently released photos for the finale of the Starz drama (courtesy of Entertainment Weekly), Jamie (Sam Heughan), Claire (Caitriona Balfe), Young Ian (John Bell), and of course, Rollo, are seen arriving at the Mohawks village. They will be greeted by the village leader. However, it looks like tension with ensues after the trio made clear of their intention to get back Roger (Richard Rankin).
In one photo, Young Ian is seen surrounded by the native settlers who are all armed with rifles and other tools. Claire, on the other hand, tries to break the tension.
Understandably, Young Ian is invested in getting back Roger since he is the one who sold the latter to the Mohawks. He feels the guilt of unintentionally hurting his cousin, Brianna (Sophie Skelton).
As Outlander book readers have known, the Frasers will be forced to agree on the Mohawks' terms so they can save Roger. Ian chooses his fate as he makes a huge decision that will save Roger's life. Will it be a happy ending for Jamie's nephew or will he suffer from the hand of the Mohawks too?
Elsewhere, Brianna is preparing to give birth to her child while still unsure whether or not she will see her parents and Roger again. The good news is that Murtagh (Duncan Lacroix) will be on Bree's side when she gives birth to her child.
Murtagh is also seen in the promo photos talking to Aunt Jocasta (Maria Doyle Kennedy). Another snap shows Jamie's aunt looks happy. She may have received good news about her nephew, or the glow in her face maybe for someone else.
In the last episode of Season 3, the Fraser family may find happiness when they finally get together. However, Heughan hinted that it may not last long. The actor said Jamie, Claire, and Brianna knew that the American Revolution about to begin.
"They know this war is coming, bigger than anything. It is slowly thundering in the background. Dare I say, this finale is the strongest we've had," Heughan told TV Insider.
Outlander Season 3 finale will air on Starz at 8 p.m. ET on January 27. On the other hand, the last episode of Outlander Live! For this season will air on January 28 at 1 p.m. ET on EW Radio, Sirius XM 105.
© 2023 Korea Portal, All rights reserved. Do not reproduce without permission.