'Outlander' Season 4 Episode 11 Spoilers: Murtagh Finds Stephen Bonnet; Aunt Jocasta Has Plans For Brianna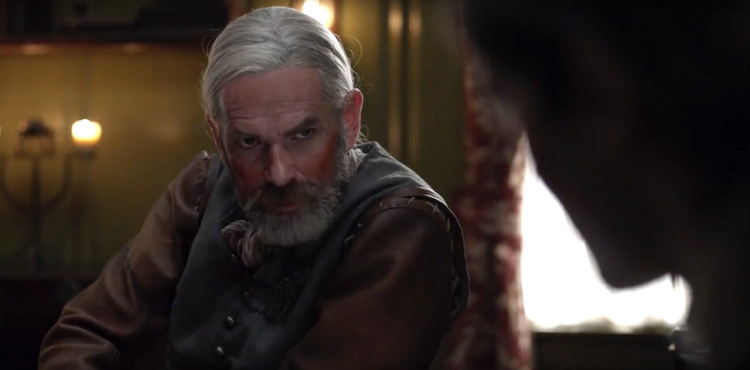 Murtagh is determined to carry out the wishes of his godson Jamie: to find Stephen Bonnet. Meanwhile, Aunt Jocasta's plan for Brianna will be revealed in the upcoming Outlander Season 4 Episode 11 and Jamie and Claire's daughter may find it hard to express her disapproval of her aunt's grand scheme.
In Episode 11, titled "If Not For Hope," Jamie (Sam Heughan) will desperately try to make amends for his mistake and win back his wife and daughter's trust. He along Claire (Caitriona Balfe) and Young Ian (John Bell) will embark on a journey to rescue Roger (Richard Rankin) from the Mohawks. At some point in the teaser, Claire tells her husband that she is sorry for not telling him sooner about Bonnet (Ed Speleers).
In Wilmington, Murtagh (Duncan Lacroix) seeks Fergus' (César Domboy) help to find Bonnet and ensure that Jamie can get the revenge he wants for what happened to Brianna (Sophie Skelton). The Episode 11 teaser suggests that Fergus will find the notorious pirate and Murtagh will show up in a tavern where Bonnet is having a drink with his shipmates. Murtagh is seen pointing a musket on Bonnet.
In River Run, Brianna seems to settle down at her Aunt Jocasta's (Maria Doyle Kennedy) estate until she notices that her aunt is constantly inviting guests, mostly single men, to visit the plantation. Jocasta's servant Phaedre (Natalie Simpson) tells Brianna that one of her aunt's guests, named Forbes, intends to ask for her hand in marriage.
It looks like Bree will confront Aunt Jocasta about it and tells her that she and Roger have already handfasting, an old Highland custom where a man and a woman would pledge to be together for a year. At the end of that time, if they are sure about each other, they would find a minister to make their union legal.
Lord John Grey (David Berry) is also seen in the teaser. It seems like he is among the men that Aunt Jocasta will introduce to Brianna. Bree will form a bond with Lord John and will tell him about his predicament.
"Sometimes people do the wrong thing for the right reason," he says to Brianna. Will he offer his hand for marriage to Brianna to save her from marrying someone else?
Meanwhile, it can be noticed that Roger is not seen in the preview for Episode 11. It is not clear whether or not he touches the standing stone that he found in the woods. It is also worthy to note that someone died in the woods as Jamie is seen paying his last respect to the remains. Outlander Season 4 Episode 11 airs on January 13 at 8/7c on Starz.
© 2023 Korea Portal, All rights reserved. Do not reproduce without permission.