'This Is Us' Season 3 Episode 12 Spoilers: Big Three Bring Home Uncle Nicky; Rebecca Not Happy About It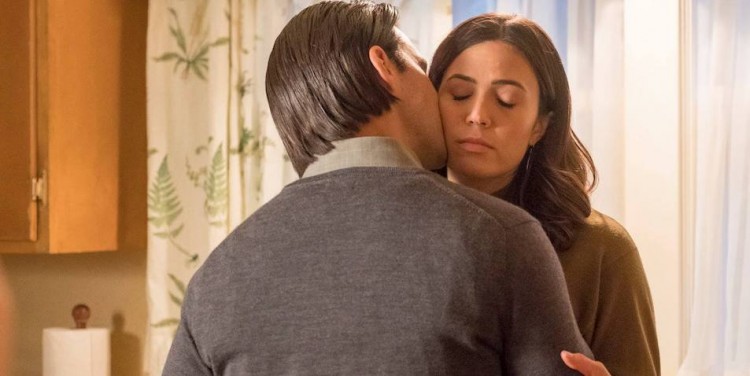 This Is Us Season 3 will be a taking a one week break to give way to the 2019 State of the Union Address of President Donald Trump on January 29. When it comes back in February, things will be emotional and a little tense in the Pearson family because of Jack's brother.
In the previous episode, the Big Three went on a road trip to Bradford, Pennsylvania to look for their long lost Uncle Nicky (Griffin Dunne). The Pearson siblings found him and have finally got the answers as to what had been haunting their father for so long.
Towards the end of the episode, Kevin (Justin Hartley) told his siblings that he doesn't want to leave his Uncle Nicky alone in his trailer track. They went back to Bradford and found Nicky on his trailer regretting not telling Jack (Milo Ventimiglia) that what happened in Vietnam was an accident.
Based on the trailer for the upcoming "Songbird Road: Part 2" episode, Kevin, Kate (Chrissy Metz), and Randall (Sterling K. Brown) will bring Nicky back to Pittsburgh. Rebecca (Mandy Moore) will finally meet Nicky and have a chance to ask him herself about Jack's life in Vietnam that her husband doesn't want to talk about. However, it looks like there will be a tension between Rebecca and Nicky on their first meeting.
"I think it's time you and I talked," Rebecca tells Nicky in the trailer.
This Is Us executive producer Elizabeth Berger talked about the upcoming meeting between Rebecca and Nicky. She hinted that it is going to be very emotional for Rebecca. Berger said being in front of a person who knew Jack's childhood will be a lot to take in for the Pearson matriarch.
"Jack kept his family life so separate from her, and so separate from their marriage that to sit across from someone that knew that life and knew Jack as a child, it's an experience that she's never had before, so it's going to be incredibly powerful," Berger told Entertainment Weekly.
Meanwhile, Randall is also seen in the preview talking to Kate about what may have pushed their father to keep a secret from them. Randall tells Kate as she will learn pretty soon that as a parent, she will also do everything to keep and create only happy and good memories for her child, and that is what Jack did to them when they were still kids.
The upcoming episode will also feature some great time of Jack and Rebecca with their young family. This Is Us Season 3 Episode 12 will air on NBC on February 5 at 9 p.m.
© 2023 Korea Portal, All rights reserved. Do not reproduce without permission.