'This Is Us' Actor Justin Hartley Teases A Huge Story Behind Jack's Lie About His Brother; Kevin & Zoe's Relationship In Trouble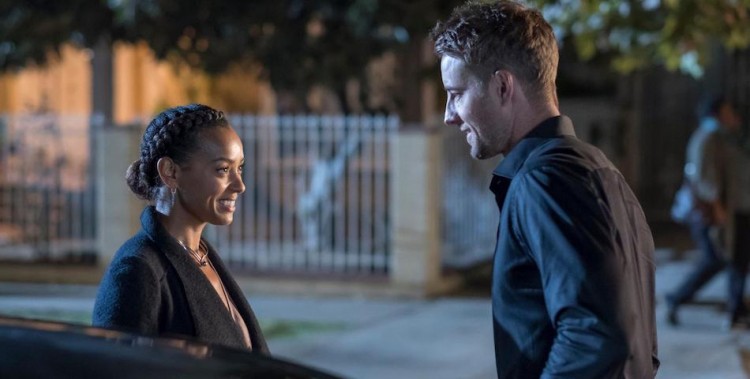 This Is Us star Justin Harley needs to give fans something to wait for in the remaining episodes of the third season of the NBC drama. It is something that probably all of This Is Us fans have been waiting for: the actual meeting between Kevin and his uncle.
In the last episode of Season 3 before it took the winter break, Kevin (Hartley) finally found out that his uncle Nicky (Michael Angarano) could still be alive. He gathered from his trip to Vietnam that Nicky was not listed in the database of the Vietnam War memorial which means he did not die during the war. Towards the end of the episode, adult Nicky (Griffin Dunne) is seen living alone in Bradford, Pennsylvania.
Justin Hartley revealed that Kevin will definitely meet his uncle and it is happening very soon. However, the actor told Entertainment Tonight that their first meeting will not be "all rainbows and butterflies."
"Here's a guy who's lived in solitude his whole life, who we thought was dead, because we were told by our father -- who is dead -- that he was dead. And now it's like, 'Wait, he's not dead?'" Hartley said.
He hinted that the reason why Jack (Milo Ventimiglia) never talk about his brother to his family may also be tackled this season. Hartley added that the Pearsons may also need to take a moment to talk about Jack's relationship with Nicky and why he lied to them.
"So, should we be mad about that? Like, what's the deal? Like, why did you tell us he was deceased? There's a huge story behind all of that. [It's] a lot to process," he added.
Fans of This Is Us have known by now that this is not the only lie Jack made when it comes to his time in Vietnam. He once told someone that he worked as a mechanic for the Army but not as a soldier during his tour in the Southeast Asian country.
In the teaser for the upcoming Episode 10, titled "The Last Seven Weeks," a flashback scene features Jack and teenage Randall (Niles Fitch) visiting the Vietnam Veterans Memorial in Washington D.C. Is he opening up to Randall about his brother and their time in Vietnam?
Meanwhile, Randall's (Sterling K. Brown) campaign comes to a close and the episode may also feature the elections. Although in the previous episode, Randall ended up sleeping in the couch after an argument with Beth (Susan Kelechi Watson), it looks like the couple will patch things up. In the teaser, they are seen together in bed as Randall is thinking about what Jack may say about the life he is leading to.
Elsewhere, it looks like Kevin and Zoe (Melanie Liburd) will break up in the upcoming episode. In one scene in the preview, Zoe is telling Kevin that she "can't do this" anymore. Another scene shows Kevin in his apartment with some boxes, possibly contain Zoe's stuff. This Is Us Season 3 Episode 10 will air on January 15 at 9 p.m. ET on NBC.
© 2023 Korea Portal, All rights reserved. Do not reproduce without permission.