'Memories Of The Alhambra' Episode 13 Spoilers: Hee Joo Meets Emma; Professor Cha Gets Deeper Into The Game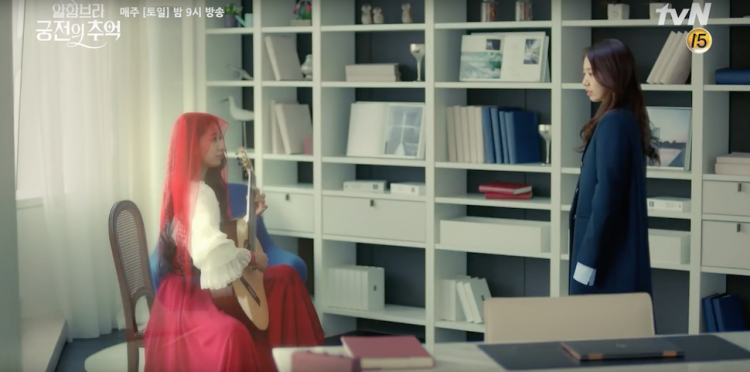 Ji Woo has found a new alliance (sort of) with Professor Cha but it is not clear how long he will last in the game as it seems like he is getting frightened as he gets deeper into it. Meanwhile, Hee Jo finally met Emma. The non-playable character's role in the game may finally reveal in the upcoming Memories Of The Alhambra Episode 13.
Professor Cha (Kim Eui Sung) has finally got the taste of what Jin Woo (Hyun Bin) has been into for more than a year now. In the previous episode, Jin Woo challenged the professor to log in to the game to prove to himself if Jin Woo is indeed crazy.
Cha did log into the game and saw for himself his bruised and bloodied late son, Cha Hyung Seok (Park Hoon). Hyung Seok is also seen attacking his father towards the end of the episode.
Based on the teaser for the upcoming Memories Of The Alhambra Episode 13, Professor Cha did not die from Hyung Seok's sword just yet. Instead, Ji Woo is telling him to make the right call if he still wants to live.
The newly-ousted CEO of J Holdings is seen aiming a high-powered gun on Cha from a high-rise building. The professor could be dealing with Hyung Seok or a number of enemies on the ground. Jin Woo is telling him to make a call and order the shut down of the game server in order to save his life.
Meanwhile, Jin Woo and Hee Jo (Park Shin Hye) figure out that the café in Granada has a significance to the game. It may have the key to find Hee Jo's game developer brother, Se Joo (EXO member Chanyeol).
Ji Woon and Hee Joo can be heard in the teaser talking about the cafe. Hee Joo affirms that the place is important to her brother. Hee Joo tells her boyfriend that she and her brother did not talk about the game but she saw something when Se Joo is still developing the intricate AR game.
Hee Joo may possibly be talking about Emma. The teaser for Episode 13 hinted that Hee Joo somehow knew about Emma. She is seen greeting the NPC "Annyeong, Emma." It is most likely that Se Joo mentioned to her older sister that he is creating a character that looks like her.
Choi Yang Joo (Jo Hyun Chul), the head of the R&D Center Research Team of J One Holdings, can also be heard in the teaser saying that there is a special function that is programmed in Emma. It is possible that both Hee Joo and Emma holds the key on how to finish the game. Memories of the Alhambra Episode 13 will air on tvN on January 12.
© 2023 Korea Portal, All rights reserved. Do not reproduce without permission.