'Outlander' Season 4 Episode 10 Spoilers: Jamie & Roger Are In Trouble; Brianna To Decide On The Fate Of Her Unborn Child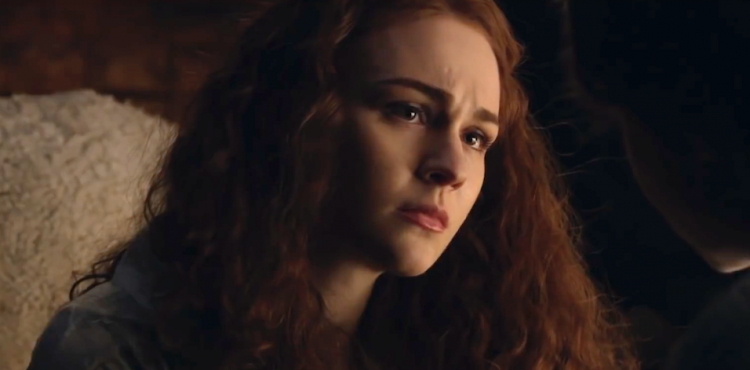 It will be a tense Outlander Season 4 Episode 10. Brianna and Claire will talk about abortion, the native settlers will punish Roger for the crime he did not commit, and Jamie will face the rage of Claire and Brianna for what he has done to Roger.
In the "The Deep Heart's Core" episode, things will get complicated when Claire (Caitriona Balfe) and Brianna (Sophie Skelton) find out that Roger (Richard Rankin) came to Fraser Ridge to look for his wife but Jamie (Sam Heughan) almost beat him to death. In the teaser for the upcoming episode, furious Claire is seen asking her husband of what he has done, probably learning from Bree and Lizzie (Caitlin O'Ryan) that Roger came to see his wife.
In the previous episode of Outlander, Brianna admitted to her mother that she is two months pregnant but Roger is not the father of her unborn child. She revealed to Claire that she was raped by someone at Wilmington. Claire revealed to Jamie about Brianna's situation including the rape.
Claire, later on, found her wedding ring at Brianna's cabin. She confronted Bree and eventually learned that it was Stephen Bonnet (Edward Speelers) who brutally assaulted her daughter.
Brianna asked her mother to it a secret from Jamie. She believes that her father will be more devastated once he learned that it was Bonnet who raped her. The Fraser patriarch is already blaming himself for helping Bonnet escape from the redcoats but later betrayed them and killed his friend, Lesley.
The synopsis for "The Deep Heart's Core" indicates that Jamie and Claire keep secrets from one another as they try to help Brianna process her trauma. Jamie will not tell his family about the man he almost killed, believing that it was the same man who raped Brianna.
Claire, on the other hand, hides the fact from Jamie that it was Bonnet who raped Bree. Apparently, their secrets will create a familial rift once they are revealed and the disastrous consequences of their actions will be seen in the upcoming episode.
The Episode 10 teaser shows Rogers being held by the native settlers. It looks like Young Ian (John Bell) will let the settlers punish Roger for the crime they believe he committed. But Roger is seen telling someone that he will try to escape to see Bree.
Will he escape? Or could Bree save Roger in time before he will be punished in an 18th-century way? In the teaser, Brianna and Murtagh (Duncan Lacroix) are seen in the woods, possibly looking for Roger.
The clip also features Claire and Brianna talking about an "impossible decision" that the latter has to make. Claire is telling her daughter that she needs to decide soon while the fetus is still small. Then, Brianna asks her mother what Claire will do if she is in the same position as her. Outlander Season 4 Episode 10 airs on January 6 at 8 p.m. ET/PT on Starz.
© 2023 Korea Portal, All rights reserved. Do not reproduce without permission.