'NCIS: Los Angeles' Season 10 Episode 13 Spoilers: Kensi Forms A Special Bond With A Syrian Witness; Might Ask Deeks For An Early Wedding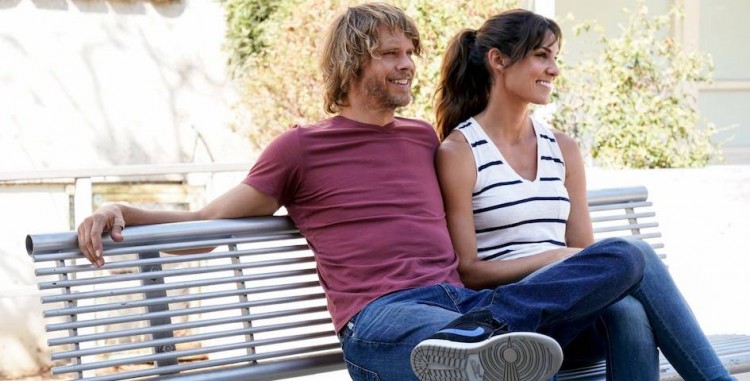 The Kensi-Deeks wedding is still on and it may happen in NCIS: Los Angeles Season 10 Episode 13. The upcoming episode will be a special one for Kensi.
NCIS Special Agents Kensi Blye (Daniela Ruah) and Marty Deeks (Eric Christian Olsen) are still on the planning stages of their much-awaited nuptials. In the previous episode, the couple researched and discussed several possible honeymoon locations and in the upcoming episode, their wedding ceremony might come early than they have planned.
In the teaser for Episode 13, titled "Better Angels," Kensi forms a special bond with a Syrian national. This might make Kensi decide to marry Deeks early.
The NCIS team is working with the Global Criminal Tribunal when Syrian national, David Sarraf (Eyas Younis), is brutally attacked while delivering evidence to the tribunal. The evidence would prove that chemical weapons were used on innocent civilians in his war-torn country.
Sarraf gets pinned behind a vehicle. Kensi volunteers to stay at the crime scene to accompany and comfort Sarraf. She is telling him that they can't just pull the vehicle as it is the only thing that is keeping him alive. It looks like it takes hours before the rescue team finally figure out on how to remove the vehicle without making Sarraf's condition worst.
In the sneak peek for NCIS: Los Angeles Season 10 Episode 13, Kensi is seen getting emotional as she talks to Sarraf who is clearly in severe pain. The NCIS agent is seen tearing up when Sarraf begs to call his wife. Sarraf tells Kensi that he wants to hear the voice of his wife for the last time. Then Sarraf tells Kensi that she is his angel.
It could hit Kensi very hard and may make her realize how Sarraf risks his life to save his family and his fellow countrymen. She might also think about what Deeks have been telling her in the previous season.
It can be recalled that Deeks and Kensi broke up in the penultimate episode of Season 9 after the former demanded that they should leave NCIS after they get married. Deeks have been telling Kensi, and even Callen (Chris O'Donnell), that he wants to have a less dangerous job for his wife and the children that they will have in the future.
At the end of the teaser for Episode 13, Kensi is seen giving Deeks a tight hug. The look on her face suggests that she wouldn't like to lose Deeks like Sarraf's wife loses her husband. At this state, an early wedding is a high possibility.
Meanwhile, NCIS Special Agent Arlo Turk (Max Martini) and Deeks mother, Roberta Deeks (Pamela Reed), will also appear in the upcoming episode. NCIS: Los Angeles Season 10 Episode 13 airs on January 13 at 9 p.m. ET on CBS.
© 2021 Korea Portal, All rights reserved. Do not reproduce without permission.