'Outlander' Season 4 Spoilers: Starz Drops A Glimpse of Brianna & Roger's Reunion In The 18th Century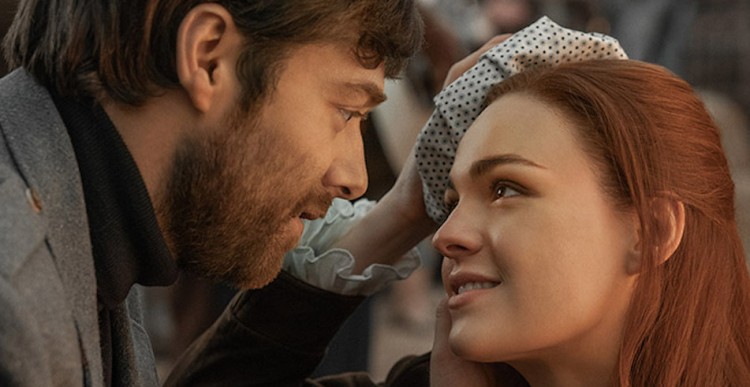 Starz has hyped up the upcoming Outlander Season 4 Episode 8 with the released of several still photos of the characters. The set of new snaps offer a glimpse of Brianna and Roger's highly-anticipated reunion.
One of the highlights of the forthcoming Sunday episode is the reunion of Bree (Sophie Skelton) and Roger (Richard Rankin) in Wilmington. Fans of Diana Gabaldon's novels have known that this reunion will be short-lived as Brianna will find out that Roger hides vital information about her parents.
Jamie (Sam Heughan) and Claire (Caitriona Balfe) are also back in Episode 8, which also happens to be the show's 50th episode. Many Outlander fans missed the Fraser couple in the "Down The Rabbit Hole" episode. The previous episode focused on Bree and Rogers journey in the 18th century.
In Episode 8, Jamie and Claire will attend an event with Governor William Tryon (Tim Downie). In there, they will discover a plot against Murtagh (Duncan Lacroix) and his fellow regulators. In the teaser for the upcoming episode, Jamie is seen leaving the place to warn his friend about his impending danger and imminent arrest. Jamie asks Claire to distract the governor while he goes to look for Murtagh.
"I'll buy you as much time as I can," Claire tells her husband in the Episode 8 teaser.
Young couple Fergus (César Domboy) and Marsali are also coming back in Episode 8. In the photos shared by Entertainment Weekly, the two are seen talking to Jamie and Claire while another image features the latter helping Marsali in the kitchen.
Meanwhile, the teaser for Episode 8 also features Stephen Bonnet (Ed Speleers). He is seen showing Brianna the ring that he stole from Claire. In Gabaldon's Drums of Autumn book where Season 4 is based upon, Bonnet rapes Bree before giving her Claire's ring. Outlander Season 4 Episode 8 airs on December 23 at 8 p.m. on Starz.
Meanwhile, Outlander executive producer Maril Davis addressed the question of fans on whether or not Bree brings her mother's pearl necklace when she traveled back in time. Some Outlander fans are wondering why Bree did not bring out the pearls in Episode 7.
In Drums of Autumn book, Bree showed the pearls to Ian (Steven Cree) and Jenny (Laura Donnelly) Murray to prove that she is indeed the child of Jamie and Claire. The necklace is an important piece of jewelry to the Fraser clan as it has been passed through generations. Moreover, Laoghaire tried to snatch the pearls from Bree in the book. She believes that as Jamie's wife who hasn't received the alimony from him, she should have the pearls.
Davis said Bree has the pearls with her and they actually filmed a scene where the character showed it. However, the scene has been deleted.
"There were those of us who felt like she'd never obviously sell those pearls because they are sacred, but why wouldn't she have brought them out earlier? There were so many questions. Also, we left out the fight between Brianna and Laoghaire because it felt a little over the top. For those reasons, we decided not to include the pearls. I'm not sure if we'll use them later, though obviously, she has them with her," Davis explained to CinemaBlend.
© 2023 Korea Portal, All rights reserved. Do not reproduce without permission.