'Encounter' Episode 5 Spoilers: Jin Hyuk & Soo Hyun Finally Reveal Their Relationship To The Public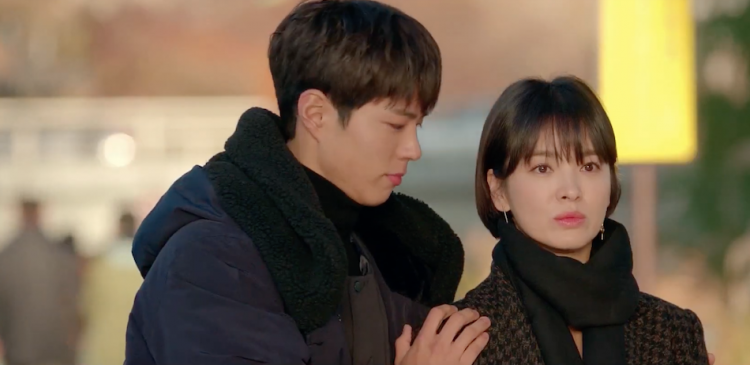 Jin Hyuk has mustered all the courage he has to reveal himself as the mysterious man in the news article who had ramyeon with Soo Hyun at the rest stop. In the upcoming Encounter Episode 5, the two will be out in the public and Soo Hyun is no longer scared of what others will say about her.
It looks like Soo Hyun (Song Hye Kyo) has finally decided to be happy than to think about the opinion of others, her mother, and her former mother-in-law. In the teaser for Episode 5, Soo Hyun and Jin Hyuk (Park Bo Gum) are seen walking together in a park. At one point, Jin Hyuk's arm is seen wrapped around Soo Hyun's shoulder.
In the previous episode, both Jin Hyuk and Soo Hyun showed courage when they continue to see each other amidst the gossip about the latter. Soo Hyun's secretary even asked Jin Hyuk to keep his distance from Soo Hyun as the slightest flaw that other will find about the hotel CEO could be blown out by the press. Soo Hyun herself also told Jin Hyuk that she doesn't want to get involved with him anymore before it makes her uncomfortable.
Despite the discouragement, Jin Hyuk showed that no one can decide on how he should live his life than himself. Towards the end of Episode 4, he saved Soo Hyun from an embarrassing situation. Jin Hyuk also courageously asked his boss in front of the hotel's employees to go out on a date with him. The employees were shocked to find out that it was Jin Hyuk who spent time with their CEO at a rest stop.
Meanwhile, Soo Hyun's ex-husband, Jung Woo Seok (Jang Seung Jo), asks someone to look into Jin Hyuk's background. It looks like Woo Seok still care about his former wife and might be considering his mother's demand for the former couple to get back together.
In the previous episode, Jin Hyuk showed authority to Soo Hyun when the latter got involved in an accident. He is expected to show to Soo Hyun that she can depend on him as they move forward with their relationship.
Encounter viewers are also expecting to see more sweet moments between the lead characters of the tvN drama. Soo Hyun and Jin Hyuk shared a touching moment together in Episode 3. Due to exhaustion, Jin Hyuk slept at Soo Hyun's shoulder just like what happened between them in Cuba. However, during their first meeting in Cuba, it was Soo Hyun who rested her head on Jin Hyuk's shoulder.
Meanwhile, Encounter has maintained it high viewership ratings for its latest episode. Song and Park's melodrama scored 11.46 percent in Seoul area for its Thursday's episode. Encounter airs every Wednesdays and Thursday at 9:30 p.m. on tvN.
© 2020 Korea Portal, All rights reserved. Do not reproduce without permission.