'Encounter' Episode 3 Spoilers: Soo Hyun & Jin Hyuk To Continue Dating Amidst Scandal + Song Hye Kyo & Park Bo Gum's K-Drama High In Ratings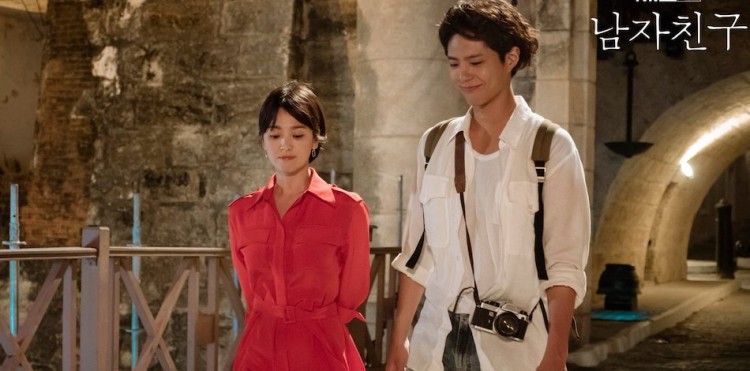 New Korean drama Encounter has been on top of viewership rating chart on its first week of airing. Both stars Song Hye Kyo and Park Bo Gum delivered an impressive performance on their premiere episodes. Next week, more viewers are expected to tune in as the lead characters face the scandal that broke out at the end of the previous episode.
In Episode 2, Cha Soo Hyun (Song Hye Kyo) and Kim Jin Hyuk (Park Bo Gum) met again when the latter is already an employee of Donghwa Hotel. Clearly, both of them doesn't forget their first encounter in Cuba.
After finding out that Jin Hyuk is her employee, Soo Hyun reached out to him. Not long after, they started to hang out and spent some fun time together. However, their simple yet happy times together did not end well for both of them. They were photographed sharing a meal at a rest stop.
In the upcoming episode, Soo Hyun will be scolded by her mother after her photos with Jin Hyuk landed in the news. However, it looks like it will not bother Soo Hyun at all.
Based on the teaser for Encounter Episode 3, she will still go out with Jin Hyuk despite the news about her dating a younger man who is also her employee. The couple is seen having a great time making sand castle by the beach.
The sneak peek also shows Soo Hyun talking to her ex-husband, Jung Woo Seok (Jang Seung Jo). It could be about their mothers' plan to reconcile the former power couple.
Soo Hyun is also heard saying in the teaser that she is putting an end on something. It is not clear who is she talking to and what she meant by that. Is she putting an end to her friendship with Jin Hyuk or is she severing all her ties with her ex-husband?
Meanwhile, Encounter recorded double-digit ratings on its premiere episodes. Both Song Hye Kyo and Park Bo Gum were able to make the viewer's hearts flutter with sweet scenes between them.
According to Nielsen Korea, the November 29 episode of Encounter recorded a 10.32 percent ratings in South Korea with a peak of 12.86 percent viewership in the metropolitan area. Moreover, the K-drama also now holds the title as highest viewership ratings for the premiere of a tvN drama in Wednesday-Thursday timeslot. Encounter airs every Wednesday and Thursday at 9:30 p.m. KST on tvN.
© 2019 Korea Portal, All rights reserved. Do not reproduce without permission.