'Encounter' Stars Song Hye Kyo & Park Bo Gum Open Up About Age Difference, Friendship, & Song Joong Ki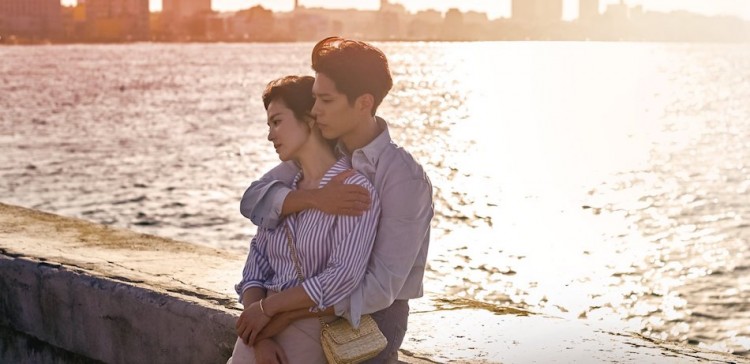 A few more days before the release date of one the most-anticipated Korean drama this year, Encounter. Lead cast members Song Hye Kyo and Park Bo Gum shared their thoughts about the series, their casting, and more.
Encounter is a comeback K-drama for both Song and Park. During the press event ahead of its premiere next week, the cast and director of the series talked about an issue that came out during the casting of the show. It can be recalled that there were some negative comments when the lead stars of the TV series was announced back in July.
Song admitted that her age difference with Park was a big issue at the time. The Descendant of the Sun actress revealed that she was concerned at first that some may find her and Park's partnership a little bit off. The actress explained that she played the role of a company CEO and Encounter is a story of an older-younger couple.
Encounter director Park Shin Woo said Song, 36, and Park, 25, are the only actors who came to his mind when he first read the script. Fortunately, the two accepted the project. Park said he is confident that all of the comments about Song and Park's age difference will die down once the series premiere and the viewers will understand what the series is all about.
"This isn't a story centered around their age difference. I actually think one of the points of this drama is the feeling that these two people's various differences are disappearing after they meet," PD Park said.
The mood at the press event got lighter when Song made another revelation. The Full House actress said she went on a diet for Park.
"I went on a diet because I had to act with Park Bo Gum. So that I can look pretty," she jokingly commented.
Meanwhile, Park Bo Gum revealed that contrary to what many have thought, he is not close with Song Hye Kyo before they start filming. Many fans have an impression that the two are close friends since Park and Song's husband, Song Joong Ki, are best friends.
Park and Song admitted that at first, they both had a bit of a hard time approaching each other. They, however, got closer while filming. The Love in the Moonlight actor said Song took good care of him and always give him some acting advice.
As for Song Joong Ki, the important person that is common in both Song and Park's lives, the two shared what the Battleship Island actor had told them while they are doing Encounter. Song Hye Kyo said her husband always reminds her to work hard.
Park Bo Gum, on the other hand, said Song Joong Ki told him to concentrate on his work and not to worry about anything. Clearly, Joong Ki is all okay with his friend and wife have some intimate scenes together. Encounter pilot episode will air on November 28 on tvN at 9:30 p.m. KST.
© 2021 Korea Portal, All rights reserved. Do not reproduce without permission.